Basis of Pedagogical Ideas of Jan Amos Comenius
Abstract
A study of Jan Amos Comenius' writings in terms of analyzing the source of his educational ideas is offered in the article. Analysis of available Comenius' works proved that his religious beliefs and teaching activities are permeated with Protestant doctrine, the foundation of which was the Bible. The article presents the comparative analysis of Jan Amos Comenius' philosophical and pedagogical legacy with the Scriptures. Based on the analysis it was established that Comenius' educational reform is filled with a multitude of biblical ideas. To confirm many of them well-known teacher quoted Bible verses and sincerely believed that the basis of education was to prepare the student not only to earthly life but also to eternal one. The article reasons a point of view that JA Comenius is a Christian teacher and not a humanist because his works were written in order to prepare people to meet God.
The analysis revealed that the humanistic call of JA Comenius is not appropriate, since writing his books, he quoted Bible verses to confirm this or that opinion, rules or nearby. Therefore, correct to call him a Christian teacher who wanted to each school brought in students not only the ability to learn, but pryvyvala any reverence for the Lord, the desire to serve others from the heart, love for Scripture and taught everyone everywhere to see and understand God.
Key words: pedagogical ideas, biblical principles, Protestant views, moral principles. comparative analysis.
Downloads
Download data is not yet available.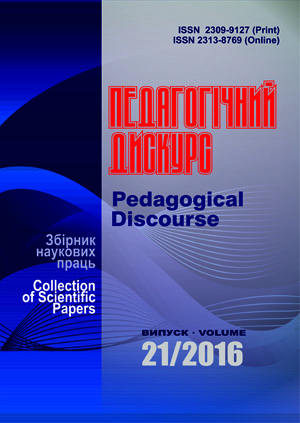 How to Cite
Georginova, L., & Kuryliak, V. (2016). Basis of Pedagogical Ideas of Jan Amos Comenius. Pedagogical Discourse, (21), 20-25. Retrieved from http://ojs.kgpa.km.ua/index.php/peddiscourse/article/view/126