Multiculturalism as Value Orientation of Modern Education
Abstract
In the article the multiculturalism as a major factor in determining the current socio-philosophical and philosophical and pedagogical research. The objectives of multicultural education can be considered the most complete development potential of all participants in the educational process, regardless of their racial, ethnic and cultural identity. In addition, each trained and educated in the spirit of recognition and respect of their own race, nationality and culture, overcoming stereotypes and thinking uniqueness, respect other points of view, customs and values.
Determined axiological components multicultural educational paradigm, multicultural identity, defined as a person who sees himself as a subject polylogue cultures that have active life position, has a developed sense of empathy and tolerance, emotional stability, capable of productive professional activity in terms of cultural diversity society. multicultural interaction, which has a strong axiological potential is, in our opinion, the second part of multicultural educational paradigm.
The third component is a multicultural educational paradigm motvatsiyno-activity component which provides for formation of intercultural skills; possession of methods, forms, methods and techniques of teaching in a multicultural team; providing cultural content skills training; humanistic oriented pedagogical style interaction.
Intercultural communication as the fourth component of multicultural educational paradigm aimed at achieving interaction of societies, representatives of different cultures based on mutual understanding.
Key words: multiculturalism, multicultural education, multicultural personality.
Downloads
Download data is not yet available.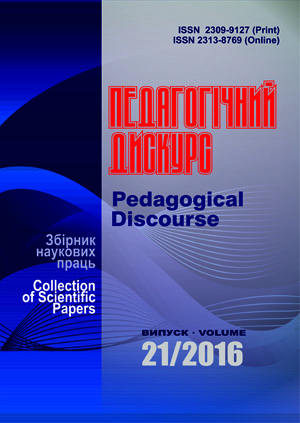 How to Cite
Glotova, I. (2016). Multiculturalism as Value Orientation of Modern Education. Pedagogical Discourse, (21), 25-29. Retrieved from http://ojs.kgpa.km.ua/index.php/peddiscourse/article/view/127