Social Rehabilitation of the Servicemen: on the Question of Term
Abstract
The article analyzes the psychological and pedagogical approaches of the scientists to the gist and content of such scientific definitions as «rehabilitation» and «social rehabilitation». On the basis of the conducted analysis it is determined that rehabilitation is the health, physical state and working efficiency's recovery, which were violated by illnesses, traumas, physical, chemical or other social factors. It is analyzed the peculiarities of term's usage «rehabilitation» in historical context beginning from the World War First till present. It is discovered that rehabilitation is a complex comprehensive notion that means «recovery» and it has many aspects such as: legal, psychological, social, medical, pedagogical, socionomy. The main attention is paid on the analysis of different types of rehabilitation (medical, psychological, social and psychological, social and pedagogical.
Medical rehabilitation is a system of state, social and economical, psychological, medical, professional and pedagogical measures which are aimed at the human's health recovery, his working efficiency, social status, that is based on biological, social and economical, psychological, moral and ethical and scientific and medical basis. Psychological rehabilitation involves the psychological recovery from the past orientation after situations which caused the rise of anxiety and fears. The gist of the psychological rehabilitation consists in realization of different impacts through the mind of service members taking into consideration different therapies, prevention measures, hygiene and pedagogy.
On the basis of generalization it is stated that social rehabilitation of service members is a complex of coordination of medical, physical, psychological, educational, social, aimed at the most complete health recovery, psychological status and working efficiency of service members who lost these skills as a result of trauma. It is proposed that rehabilitation must be complex and it must have diagnostic, correction, therapeutical, preventive measures. The rehabilitation of service members must be conducted by the team that consist of professionals from different fields such as social workers, recreation therapists, medical workers, psychologists and social care teachers.
Key words: rehabilitation, social rehabilitation, psychological rehabilitation, medical rehabilitation, servicemen.
Downloads
Download data is not yet available.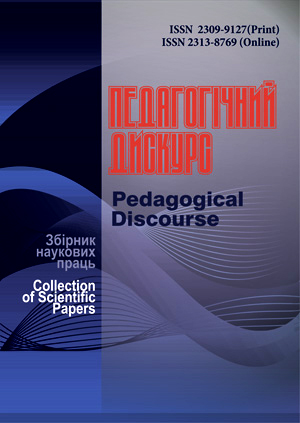 How to Cite
Bryndikov, Y. (2017). Social Rehabilitation of the Servicemen: on the Question of Term. Pedagogical Discourse, (22), 30-35. Retrieved from http://ojs.kgpa.km.ua/index.php/peddiscourse/article/view/13