The Use of Experience of the Federal Police of Germany Professional Training in Ukraine as a Pedagogical Problem
Abstract
The author has convincingly proved the need for a comparative analysis of the experience of the professional training of German Federal Police for further implementation of the best ideas in the system of personnel training at the State Border Guard Service of Ukraine and has determined the ways, methods and characteristics of such research.
«The strategy of the State Border Guard Service of Ukraine» provides one of the main objectives of improving training and manning of staff in particular through the implementation of the European standards, ensuring the exchange of experience with educational institutions of law enforcement bodies of Ukraine and countries - members of the European Union.
Germany, like most European countries has overcome the stage of development at the political and socio-economic sense and has gained considerable experience in the development of professional activity standards and police training, their legal and social protection, corporate culture, motivation of police to improve the professionalism. There are already implemented and recently signed programs in cooperation between the State Border Guard Service of Ukraine and Federal Police of Germany (until July 2005 - Federal border protection) which show the interest in exchange of experience with the Federal Police of Germany.
The decision on the introduction of certain positive foreign ideas in the national education system must be based on carefully analyzed and critically designed, faced to our reality facts. For this purpose we should apply a system-structural approach to the study as a whole system of the Federal Police training and its individual elements, certain educational phenomenon, facts, issues.
The purpose of a comparative study is to implement a holistic scientific analysis of professional training of the Federal Police of Germany, detection of progressive ideas of experience and study of the possibilities of their creative use to improve staff training of the State Border Guard Service of Ukraine has multistage nature and should include the following steps: a systematic gathering of the relevant information on the structure and features of the system of training of the Federal police of Germany and its description; interpretation and critical analysis of the collected information with all of the possible factors that somehow affect the fact that the police training system in Germany operates in such way; comparing of the systems of professional training of the German Federal Police and the State Border Guard Service of Ukraine and determine the basic and most important aspects for comparison; actual comparison, determining the feasibility of progressive ideas in the system of training of border guards in Ukraine; development of scientific and methodological recommendations for consideration a German experience in the practice of the State Border Service of Ukraine professional training.
Key words: professional training, comparative pedagogy, comparative education, comparative pedagogical studies
Downloads
Download data is not yet available.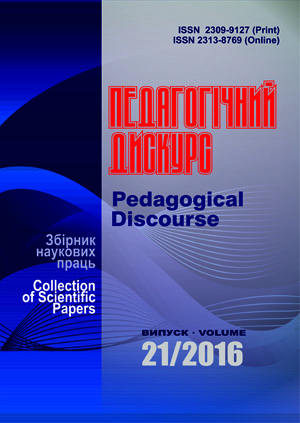 How to Cite
Isaieva, I. (2016). The Use of Experience of the Federal Police of Germany Professional Training in Ukraine as a Pedagogical Problem. Pedagogical Discourse, (21), 53-57. Retrieved from http://ojs.kgpa.km.ua/index.php/peddiscourse/article/view/132