The Problem of Integration the Contents of Proffesional Training the Future Information Technology Specialists in the Experimental Research Context
Abstract
The article raised the issue of an integrative approach as a means of developing an integrated system of training of specialists on information technologies. Implementation of integration of content of professional training of future specialists of information technologies provides for the interconnection of theoretical and methodological foundations of integration, the definition of integrative factors and study their influence on forming student's personality. In the context of training CTD integrative technologies are considered as DIDACTICA system that provides integration rzepecki knowledge and skills, various activities at the level of the integrated courses, the training topics, learning problems and other forms of training. The author substantiates the requirements for integrative education of future specialists (continuity and predictability of development of the system of knowledge and skills of students, scientific content by reflecting the real relationships between production and modern information technologies; the continuity of vocational training on the basis of an integrative approach to the learning content; the practical orientation of training of information technology). The developed system of integrated courses for the specialty «Computer graphics and design». Special attention in the training of future it professionals require integrated courses as a result of the integration of content of professional training. Methodological aspects of the integration of the content of professional training of future it specialists concluded that given the significant dependence of it professionals from the technical aspect of their training, it is advisable in the form of integrating artistic disciplines with the opportunity in the future to differentiate them in accordance with the requirements of specialization.
Listed on the lack of use of integrated courses in the training of future specialists in information technology and outlines the reasons : practical lack of mechanisms for diagnosing the quality of the integrated courses; the complexity of the restructuring of the content of the integrated courses; the formalities with the introduction of the new integrated courses; the absence of mechanisms of exclusion.
Key words: specialists in information technology, integration, training content, experimental research, computer graphics and design
Downloads
Download data is not yet available.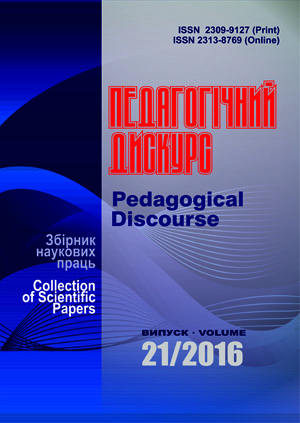 How to Cite
Korchevskyi, D. (2016). The Problem of Integration the Contents of Proffesional Training the Future Information Technology Specialists in the Experimental Research Context. Pedagogical Discourse, (21), 63-68. Retrieved from http://ojs.kgpa.km.ua/index.php/peddiscourse/article/view/134