Moral Values in the Context of Professional Training of the Prospective Teachers
Abstract
The article discusses the concept of values, determined that values differ not only quantitatively but also qualitatively. It is proved that the human person is both a tool and a resource, but the subject, purpose and value in itself. The author follows the concept that pedagogy is the science of cultural values. Objectives and educational content were generally formulated in a certain flow of pedagogy, according to the adopted objectives and types of culture and the concepts of cultural life. Therefore, the author emphasizes the close connection between pedagogy and axiology. The values of equality, justice, social and civic love as well as national values, including patriotism are viewed in the circle of higher moral values.
Key words: axiology, values, moral values, national values, theory of education.
Downloads
Download data is not yet available.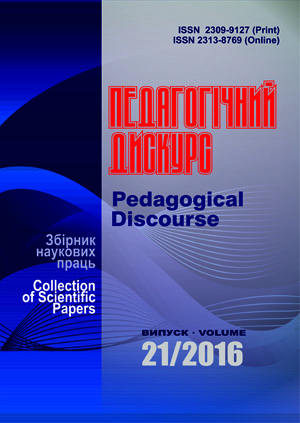 How to Cite
Lysenko, O. (2016). Moral Values in the Context of Professional Training of the Prospective Teachers. Pedagogical Discourse, (21), 80-86. Retrieved from http://ojs.kgpa.km.ua/index.php/peddiscourse/article/view/137