Pedagogical Heritage and Social-Public Awareness Activity of V. V. Riumin
Vasyl Maiboroda

Institute of Higher Education of National Academy of Pedagogical Sciences of Ukraine
Abstract
The article gives consideration to historiographic sources of creative heritage of V.V.Riumin distinguishing his pedagogical and public awareness activity. V.V.Riumin's pedagogical and public awareness heritage has not been analyzed and his printed materials have not been systematized. The scientific research works held so far by the scientists were concentrated on consideration of personalia's popular-science literature of twenties-thirties of ХХ century. The materials characterizing his pedagogical activity and shaping his scientific public awareness have not been considered by scientists.The historiography study, that sheds the light on the life's journey, scientific-pedagogical and public awareness activity of V.V.Riumin, was classified in the following directions and periods:The first period (1937 –1959) – generalization by T.Riumina-Volkova, the spouse, of V.V.Riumin's creative heritage, that turned out to be the authentic source for commencement of personalia's scientific research.The second period (1959 –1979) – publications in the periodic press, scientific almanac articles, abstract reports to scientific conferences dedicated to life and activities of V.V.Riumin; original sources were systematized at archives of Mykolayiv Region, at the Museum of Cosmonautic in Kaluga [Russian Federation], K.Tsiolkovsky's Museum House in Kaluga [Russian Federation], the Academy of Sciences of USSR in Moscow [Russian Federation].The third period (1979 – up to this day) – further systematization of V.V.Riumin's scientific and pedagogical heritage; analysis of his scientific-pedagogic ideas by scientists and discussion at scientific conferences, in reference and encyclopedic literature, in festschrifts of educational institutions where the educator taught. The analysis of historiographic material revealed that the certain pedagogical provisions of V.Riumin were given consideration to by the national pedagogic history conception scientists, but no holistic, comprehensive and profound analysis was made. Pedagogical heritage of V.V.Riumin needs to be studied. The analysisof directions of scientific-pedagogical heritage and social-public awareness activities of V.V.Riumin gives solid grounds to assert that he belongs to the cohort of outstanding Ukrainian educators, active companions of development of education of late XIX – early XX century.
Key words: pedagogic heritage, public awareness activities of Volodymyr Volodymyrovych Riumin, pedagogic education, publishing and publicistic work, periods.
Downloads
Download data is not yet available.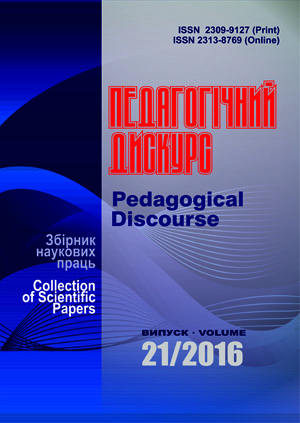 How to Cite
Maiboroda, V. (2016). Pedagogical Heritage and Social-Public Awareness Activity of V. V. Riumin. Pedagogical Discourse, (21), 90-94. Retrieved from http://ojs.kgpa.km.ua/index.php/peddiscourse/article/view/139