Professional Training of LLM Degree Students in «International Litigation and Arbitration» Program in the University of Zurich
Abstract
In this article the author gives an overview of LL.M. International Litigation and Arbitration program in the University of Zurich. It is mentioned that in the last decades the growth of globalization processes in the sphere of trade and commerce has caused popularization of alternative dispute resolution between parties which represent different jurisdictions. Many factors contribute to Switzerland to be one of the most preferred arbitration venues in the world. Swiss higher educational establishments react to the demands of modernity, thus proposing different Master programs in international arbitration. Future professionals in international arbitration should obtain a number of vital skills such as preparation and client handling, completion of a final award, its challenge and enforcement etc.
To enter the program of study an applicant must meet rather strict requirements. Degree in Law at a Master's level is a necessary condition, though exceptions can be considered on a case-by-case basis.
LL.M. International Litigation and Arbitration program includes General Course and Specialization Courses, comprising approximately 420 lectures. The program is completed with the submission of a thesis. 
Selective specificity of teaching and learning process in the University of Zurich allows students to take courses that fit their interests and needs.
Such form of teaching as a moot benefits practical application of training.
Equal attention is paid to the study of legal aspects of future professional activity, understanding cultural approaches and intercultural communication importance in alternative dispute resolution.
 An international team of prominent lecturers, cooperation with international arbitral institutions, mobility of academic modules contribute to effectiveness and success of LL.M. International Litigation and Arbitration program in the University of Zurich.
Key words: LLM (Master's degree) programme, international commercial arbitration, professional training, the University of Zurich.
Downloads
Download data is not yet available.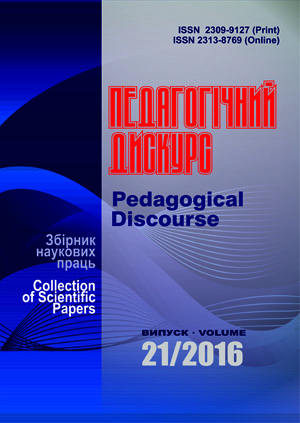 How to Cite
Nahorna, O. (2016). Professional Training of LLM Degree Students in «International Litigation and Arbitration» Program in the University of Zurich. Pedagogical Discourse, (21), 105-109. Retrieved from http://ojs.kgpa.km.ua/index.php/peddiscourse/article/view/143