Historiographical Aspect of Problems Arising in the Process of a Foreign Language Teacher Training in European Higher Education Institutions
Abstract
Thes state of the problem research regarding the teaching process organization in the modern system of higher pedagogical education in European countries is analyzed in the article. With the aim of the higher education improvement, universities use new methods of the teaching process organizations, such as self-paced studies, variety of study modules, full-time or part-time studies, evening courses, daytime or distant education. The content of studies is developed based on principles of education humanization, differentiation and personification, with gradual increase of theoretical knowledge. Educational subjects in college and university curricula are divided in the following units: professional pedagogical, special and general education courses. Training of foreign language teachers in European area is performed using parallel, sequential and alternative models. Lately, there has been a tendency to combine two education models: teachers trained by parallel and sequential models are entitled to teach in primary and secondary schools. Alternative models are represented by a series of effective programs providing for additional possibilities of receiving a degree for future teachers or those who had a break in their working activity.
The main idea of methods that are actively used in the education of future teachers of foreign languages in universities in Europe, is that the work of teachers must be realized through action. In developing the theoretical foundations of professional teacher education with special attention to the education of the future teachers of such qualities: professionalism, cognitive position of openness and a desire to progress, to learning, communicativeness, capacity for introspection, reflection, the desire to develop students ability to exercise creative approach to learning, the ability to develop their own pedagogical strategies based on self-observation and self-evaluation of own teaching practice.
Key words: higher education institution, professional training, models, education system, courses, training programs, tendencies, European education area.
Downloads
Download data is not yet available.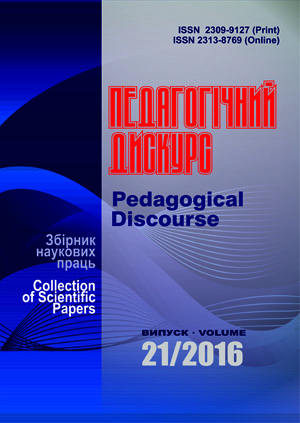 How to Cite
Ozarko, I. (2016). Historiographical Aspect of Problems Arising in the Process of a Foreign Language Teacher Training in European Higher Education Institutions. Pedagogical Discourse, (21), 124-127. Retrieved from http://ojs.kgpa.km.ua/index.php/peddiscourse/article/view/147