Competence Approach in the Training of the Intended Merchant Marine Officers to the Work in the Extreme Situations
Abstract
It is mentioned in the article that one of the main objectives of the education system development of Ukraine in the context of the implementation of the Bologna process is the introduction of competence approach into the system of specialists' training in the higher marine educational institutions. Accordingly, the analysis of the competence approach in the training of the intended officers of the merchant marine to the work in the extreme situations has been done. The essence of the competence approach in education has been revealed, the key competencies, which should know the intended professionals of the merchant marine, have been determined. We have analyzed some aspects of the implementation of the competence approach in professional training of specialists of marine sphere. It is noted that the competence approach plays an important role in the system of higher professional marine education, because it is based on the idea of forming highly qualified professional who has the knowledge, skills and abilities, who is characterized by personal qualities necessary for effective professional activity; who knows how to act in certain situations. Only competent professional can adequately, in time, clearly make decisions and give orders under the conditions of extreme situations and, accordingly, be responsible for their adoption.
Key words: competence approach, competences, training, officers, merchant marine, extreme situations.
Downloads
Download data is not yet available.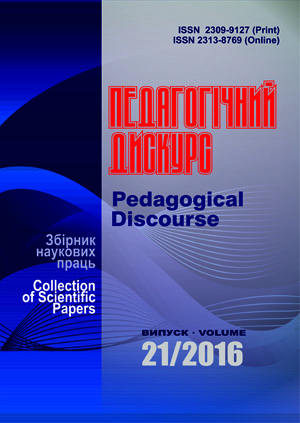 How to Cite
Osadchuk, D. (2016). Competence Approach in the Training of the Intended Merchant Marine Officers to the Work in the Extreme Situations. Pedagogical Discourse, (21), 133-136. Retrieved from http://ojs.kgpa.km.ua/index.php/peddiscourse/article/view/149