National-Oriented Concepts in Modern Historical-Pedagogical Researches on the Development of Educational Systems in the Western Region of Ukraine
Abstract
The article analyses modern scientific research on the development of regional educational systems; it is proved that in the process of accumulation of scientific knowledge of the outlined circle of problems of modern historiography, in the 90-ies of the XXth century changed scientific paradigm and has accumulated considerable empirical material in the beginning of the XXI century, has reached a qualitatively new level of complex-synthesized reflection. In the article factography bulk material, revealing the history of the region from ancient times to the present, the formation of the national education system of the region, cultural and educational activities of its prominent figures of the pre-Soviet period and the pedagogical portraits of the teachers of the XX-XXI centuries, the role of NGOs in education development.
As you know, the main increase knowledge about the evolution of educational systems and educational policies is at the level of regional research. Consequently the development problems of the regional science reflects one of the primary trends in modern historiography of pedagogy. Remain significant differences in the level of disclosure of chronological, territorial and other aspects of the studied subjects. In modern historiography of pedagogical science, a significant gap is the study of the development of education and science in Ukraine, particularly the Western region during the Soviet period. And the lack of a General research on the history of the education of national minorities in Ukraine, to a certain extent due to objective differences of their situation in its Eastern and Western regions, which are sometimes difficult to combine in one study without violating its integrity.
Key words: region, historiography, atamanskiy, Ukraine-centering, structural components, education, education, historical and pedagogical science.
Downloads
Download data is not yet available.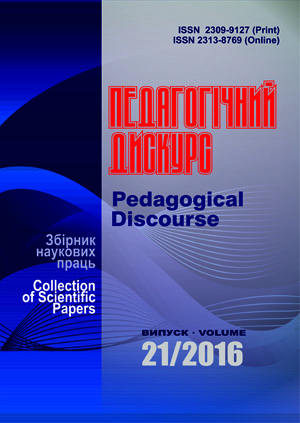 How to Cite
Strazhnikova, I. (2016). National-Oriented Concepts in Modern Historical-Pedagogical Researches on the Development of Educational Systems in the Western Region of Ukraine. Pedagogical Discourse, (21), 149-154. Retrieved from http://ojs.kgpa.km.ua/index.php/peddiscourse/article/view/152