Lifelong Education: Ontogeny of Individual and Professional Characteristics
Abstract
The article identifies and analyzes the features of continuing adult education in the context of lifelong learning strategy. It was found out that modern postgraduate education plays a significant role in lifelong education. The mission of postgraduate education is to produce highly skilled, competitive, mobile and well-informed experts with innovative thinking who can respond quickly, efficiently and in a relevant way to the challenges in a competition-oriented global world, individuals, who aspire to self-improvement, development, personal and professional fulfillment.
It has been determined that to understand the relevance and scientific-theoretical formulation of lifelong learning issue we need to consider certain prerequisites and methodological orientations. They are the following: the idea of subjectivity; the idea of uniqueness and originality of the inward man; the idea of self-actualization as the highest form of self-development.
It has been proved that personal and professional development of people, including teachers, has been examined by the researchers in the context of the mutual influence of individual characteristics and socio-cultural environment in the process of socialization and professional development, that is ontogeny of personal and professional features in the maturity stage have been under consideration.
The analysis of «self-development» category shows that self-development is an internal process of self-transformation as a result of its own contradictions, a higher level of self-motion, with a developing system that should be open, as internal resources cannot provide its existence for a long time. It has been proved that the dominant components of individual and professional self-development of specialists are as follows: active, holistic understanding and awareness of their need to change, to restructure their inner world; activities oriented on search of new opportunities of self-realization in the profession and ability to control their own behavior.
Theoretical analysis enables us to come to the following vital points: the construction and design of dynamic strategies for teachers' individual and professional self-development and self-improvement, aimed at a new, higher level of solving professional problems taking into account moral and ethical principles; sustainable development of important professional, personal and business skills; focus on high professional achievements with a strong desire for creativity, and after all, it is important to be a creator of own professional status, image and prestige.
Key words: lifelong education, ontogeny of personal and professional characteristics, teacher, professional self-improvement, self-development.
Downloads
Download data is not yet available.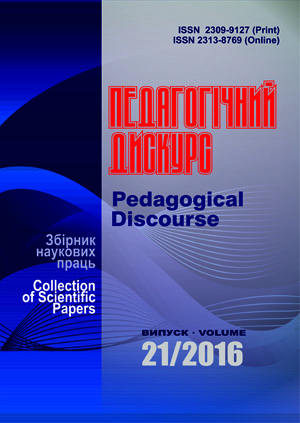 How to Cite
Sushchenko, L. (2016). Lifelong Education: Ontogeny of Individual and Professional Characteristics. Pedagogical Discourse, (21), 155-159. Retrieved from http://ojs.kgpa.km.ua/index.php/peddiscourse/article/view/153