Support for Teaching of Minority Languages in the System of Education of the Czech Republic
Abstract
In this article the authors analyse the state of teaching of minority languages in the multinational Czech Republic. The actuality of study and generalization of foreign experience of language education of minorities were discoursed. It was outlined the linguistic situation in the multilingual environment of the Czech Republic. Czech is the only official language. According to the Constitution of the Czech Republic and the Charter of Human Rights and Freedoms all members of linguistic minorities are allowed to use their mother tongue. The attention was paid to the features of studying minority languages: Polish, Slovak, German, Bulgarian, Hungarian, Ukrainian, Russian, Ruthenian and Roma. Thus, the Czech Republic offers minority children education in their mother tongue at all levels (with the exception of higher education) and in all subjects (except for the subject – Czech language). It was indicated the existence of different types of schools for ethnic minorities, along with schools with the state language training. Officially, there are three ways to receive education in one's mother tongue; there are schools where subjects are taught in the language of a national minority; there are schools where Czech is the dominant instructive language, but the language of a national minority is taught as an optional subject; and finally, there are dislocated classes where subjects are taught in the language of a national minority. Directly the Czech universities prepare teachers for schools of national minorities. The authors outline the problems of education and training of migrants from Asia and Africa, the number of which is increasing. It is found that the Concept of language education of children of the adult population of migrants is being prepared. Since 1991, the rights of national minorities in the Czech Republic have been officially established in laws. However, a striking lack of education in minority languages still exists. The authors note the importance of addressing the language issues of national minorities of the Czech Republic.
Key words: minority language, language education, multilingual environment, language teaching, integration processes.
Downloads
Download data is not yet available.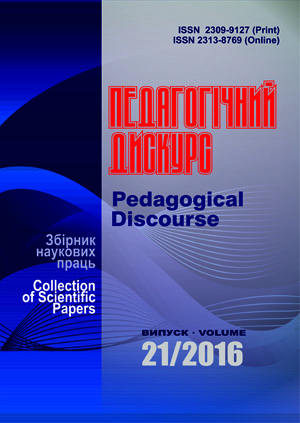 How to Cite
Tadeyeva, M., & Hodunko, L. (2016). Support for Teaching of Minority Languages in the System of Education of the Czech Republic. Pedagogical Discourse, (21), 160-164. Retrieved from http://ojs.kgpa.km.ua/index.php/peddiscourse/article/view/154