The Society Informatization Impact on the Professional Training of Future Interpreters in the Modern University
Abstract
In this article the author analyzes the features of information society, and training of future translators in modern universities. The use of electronic learning and teaching technologies in formal educational settings, in a variety of formats, is, and has been, a common teaching practice. The development of the Internet and the explosion of the World Wide Web have influenced all aspects of modern society including learning. Increasingly the perceived benefits of using these networked technologies in learning activities are being exploited within all curricula areas. A key question to be addressed is what are the educational impacts of this increased use of online learning on the educational experiences of learners? The purpose of this paper is to report on the development of a learning environment instrument designed to investigate the online learning experiences of learners in an efficient and economical way. An information society is decided like a society where the creation, distribution, uses, integration and manipulation of information is a significant economic, political, and cultural activity. Its main driver are digital information and communication technologies, which have resulted in an information explosion and are profoundly changing all aspects of social organization, including the economy, education, health, warfare, government and democracy. The People who have the means to partake in this form of society are sometimes called digital citizens. This is one of many dozen labels that have been identified to suggest that humans are entering a new phase of society. Developed online courses for the study of translation and English language for students function effectively in the vocational training system, providing the audience an opportunity in the workplace without departing from the main activity to raise the level of English proficiency of a professional orientation.
Key words: information society, information technologies, translators training, higher education, modern universities.
Downloads
Download data is not yet available.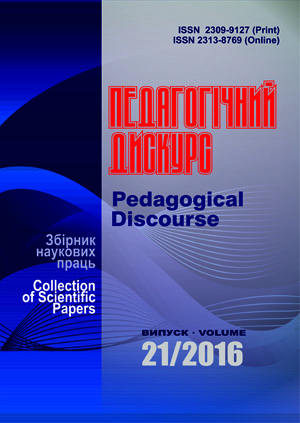 How to Cite
Shupta, O. (2016). The Society Informatization Impact on the Professional Training of Future Interpreters in the Modern University. Pedagogical Discourse, (21), 197-201. Retrieved from http://ojs.kgpa.km.ua/index.php/peddiscourse/article/view/161