Criteria and Indicators of Personality's Information and Legal Competence Formation in the Field of Social Prevention of Human Trafficking
Abstract
In the article the attempt has been made to justify the semantic content of criteria and indicators of individual's information and legal competence formation in the field of human trafficking prevention which has been defined as an information and prevention campaign's effective product. It has been mentioned that the motivation and value criteria characterizes human life as the highest social value; understanding the necessity of the need to comply with the law, respect the law, to show respectful attitude for law; availability of personality's motives, needs, values ​and targeted directions concerning social prevention of human trafficking. Cognitive criteria necessitates a large amount of social and legal knowledge, desire to update and improve it, the knowledge of the human rights and obligations and fundamental situation of violation; legal documents, which are the guarantor of human rights and so on. Operational and practical criteria of information and legal competence formation causes: the formation of critical thinking concerning information and rules of safe behavior; readiness to help people at risk or those who are in the situation of trafficking; ability to resist violence. Personality and reflective criteria causes: being able to self-reflect; to determine the urgency of the problem of children trafficking; ability to identify and respond to human rights violations and so on.
Key words: information and legal competence, criteria, indicators, social prevention of trafficking.
Downloads
Download data is not yet available.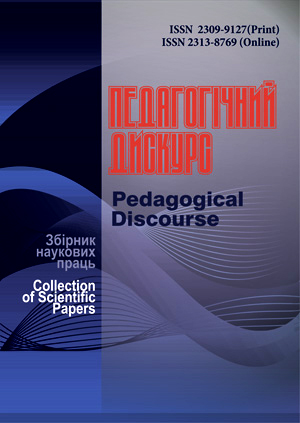 How to Cite
Danylchuk, L. (2017). Criteria and Indicators of Personality's Information and Legal Competence Formation in the Field of Social Prevention of Human Trafficking. Pedagogical Discourse, (22), 54-60. Retrieved from http://ojs.kgpa.km.ua/index.php/peddiscourse/article/view/17