Conditions of Andragogy Competence Development of Future Masters of Pedagogical Education in the Professional Training Process
Viktoriia Baluta

Melitopol State Pedagogical University named after Bohdan Khmelnytskyi
Keywords:
adult education, conditions, andragogy competence, interactive learning, master of pedagogical education, teacher
Abstract
The article deals with the issue of training of adult education teachers. The general requirements for professionalism of a master of pedagogical education as a teacher-teacher and a teacher-researcher are defined. The features of adult education in terms of formal training are described. The concept of «andragogy teacher competence» as a teacher's ability to carry out professional activities in the field of adult education effectively is highlighted. Characteristic qualities that an adult teacher must have, in particular, understanding psychological and physiological characteristics of adults, having the skills to communicate with people of different social groups and the ability to show personal qualities (empathy, tolerance, compassion, etc.), knowledge of forms, methods and techniques of adult education, the ability and willingness to self-analyse and self-develop throughout life are defined.
The conditions of andragogy competence development of masters of pedagogical education during master's course training are determined and classified as direct, indirect and applied ones.
The factors for increasing activity of adults during training are clarified. The essence and principles of the interactive teaching method and its effect on adult education are explained. The scheme of interaction of educational process participants while using the interactive method is demonstrated.
The research technologies for educational and methodical training of future masters of pedagogical education in terms of formal learning, including interactive technologies related to the creation of communication environment, structural and logical technologies aimed at setting teaching tasks, design technologies aimed at creating critical and creative thinking, professional socialization technologies aimed at creating professional-oriented environment through the introduction of teaching activity within a higher education establishment, academic research technologies focused on the formation of creative problem vision are defined.
The leading interactive forms of adult education organization, including round tables, brainstorming, business and role-playing games, case-study methods, master classes, trainings and others are found out. The roles that an adult teacher must have as a tutor, a facilitator, a missionary informant, a moderator are determined and their meanings are explained.
Downloads
Download data is not yet available.
References
Vavilova L. N. Formirovanie andragogicheskoj kompetentnosti metodista v processe povy'sheniya kvalifikacii (Formation of Andragogic Competence of a Methodist in the Process of Skills Upgrade) / L. N. Vavilova, Kemerovo, 2005, 23 p. [in Russian].

Zel I.O. Formuvannia andrahohichnoi kompetentnosti u studentiv humanitarnykh fakultetiv klasychnykh universytetiv (Formation of Andragogic Competence of Students of Humanitarian Faculties of Classic Universities) / I. O. Zel, Cherkasy, 2009, 22 p. [in Ukrainian].

Kukuev A. I. Andragogicheskaya podgotovka prepodavatel'skix kadrov dlya sistemy' obrazovaniya vzroslykh (Andragogic Preparation of Teaching Personnel for the System of Adults' Education) / A. I. Kukuev, Chelyabinsk, 2008, 3 – 11 pp. [in Russian].

Podobed V. I. Sistemny'e problemy' formirovaniya obrazovaniya vzrosly'x: obrazovatel'ny'e uslugi, funkcii, texnologii obucheniya (System Problems of Forming Adults' Education: Educational Services, Functions, Technologies of Teaching) / V. I. Podobed, Sankt-Peterburg, IOV RAO, 2000. 120 p. [in Russian].

Panfilova A. P. Innovacionny'e pedagogicheskie texnologii: aktivnoe obuchenie (Innovational Pedagogical Technologies: Active Teaching) / A. P. Panfilova, Moscow, Akademyiya, 2009, 192 p. [in Russian].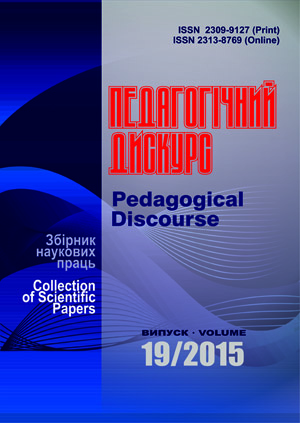 How to Cite
Baluta, V. (2015). Conditions of Andragogy Competence Development of Future Masters of Pedagogical Education in the Professional Training Process. Pedagogical Discourse, (19), 9-13. Retrieved from http://ojs.kgpa.km.ua/index.php/peddiscourse/article/view/184