Defintive Analysis of the Concepts of «Quality of Education» and «Competence», their Interpretation, Improving of the Content and Features of Introducing into the Scientific Circulation the Sphere of Higher Military Education
Abstract
The article is devoted to analysis of the logical definitions, which contain the essential features of the concepts «quality education» and «competence», their interpretation and improving the content. The attention is focused on the characteristics of the officers' profession and requirements to forming his professionally important qualities and competencies in accordance with the standards of higher education.
For the last few years the issues concerning the training quality of the officer personnel of the Armed Forces of Ukraine have become especially important. This is due to several factors. One of such factors, which one could notice during the anti-terrorist operation in the East of the country, is a lack of officers' preparedness for a successful conduct of the combat actions. Especially, one can see it at the beginning of the operation. At present, the situation has changed for the better. However, some topical issues, including a military education domain, are left unsolved. Ensuring the quality of military professionals' preparedness is higher priority. In this context the notions «quality education» and «competence» are defined as a compliance degree of the subject's inherent characteristics with the specific requirements. These subjects are: cadets (military students), these characteristics are personal qualities, competences and other professionally important qualities, and the requirement is considered to be a certain level of development of these competences according to the educational standards. Officer's competence is considered to be his obtained abilities for a continuous self-improvement, successful application of acquired knowledge and skills under the conditions of peace and war. Quality assurance of education should be a task of a higher military educational institution. Thus, the introduction of categories «quality education» and «competence» in theory pedagogy should facilitate the introduction of competence approach in educational process of higher military educational institutions and to increase its efficiency.
Key words: competence, competency, standard of higher education, professional competence officer, quality of higher education.
Downloads
Download data is not yet available.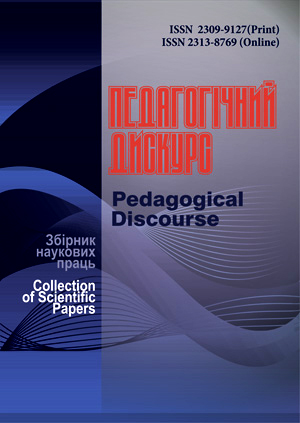 How to Cite
Zelnytskyi, A. (2017). Defintive Analysis of the Concepts of «Quality of Education» and «Competence», their Interpretation, Improving of the Content and Features of Introducing into the Scientific Circulation the Sphere of Higher Military Education. Pedagogical Discourse, (22), 66-71. Retrieved from http://ojs.kgpa.km.ua/index.php/peddiscourse/article/view/19