Modern Technologies in Organization Process of Education in the Higher Educational Institution
Svitlana Lytvynenko

Rivne State Humanitarian University
Keywords:
workshop, professional action, educational methods, innovational technologies in education, primary school teachers training
Abstract
The article covers theoretical foundations and the experience of workshops usage as an innovative technology in education of future primary school teachers at the university. The overall trends is determined for updating an integrated system of education and approaches leading to the development of its subjects. The article grounded need to use forms, methods and training technologies that provide a harmonious connection of theoretical knowledge and practical skills corresponding, also creativity development in the individual professional progress of future professionals. Leading approaches are analyzed to the definition workshop in domestic and foreign studies determined its content and essence, peculiarities workshop as a teaching method that is based on the study of the practical aspects of any issue or problem. Demonstrated experience in teaching workshops according to psychological disciplines in the preparation of future primary school teachers, which provided conditions for immersion in professional activities and the formation of the emotional competencies and positive attitudes of students for future professional activities; the organic unity of the common creative process of teaching and learning, including students in independent research activities; using conceptual theoretical provisions in practice.
Downloads
Download data is not yet available.
References
Bila knyha natsionalnoi osvity Ukrainy (The White Book of National Education of Ukraine) / T. F. Aleksieyenko, V. M. Anishchenko, H. O. Ball [ta in.] ; za zah. red. akad. V. H. Kremenia ; NAPN Ukrainy, Kyiv, Inform. systemy, 2010, 342 p. [in Ukrainian]

Vachkov I. V. Osnovyi tehnologii gruppovogo treninga: Uchebnoe posobie. – M. : Os-89, 2000. – 224 p. [in Russian]

Vachkov I. V. Osnovyi tehnologii gruppovogo treninga: Uchebnoe posobie. – M. : Os-89, 2000. – 224 p. [in Ukrainian]

Vykorystannja interaktyvnykh metodiv ta muljtymedijnykh zasobiv u pidghotovci pedaghoghiv: Zbirnyk naukovykh pracj. – Kam'janecj-Podiljsjkyj: Abetka-NOVA, 2003. – 208 p. [in Ukrainian]

Interaktyvni tekhnolohii navchannia: teoriia, praktyka, dosvid. Nauk.-metod. posibn/ O.Pometun, L.Pyrozhenko. za red. O.Pometun. – K. : Vyd.-vo A.S.K., 2004. – 192 p. [in Ukrainian]

Fopel' K. Jeffektivnyj vorkshop. Dinamicheskoe obuchenie. (Effective Workshop. Dinamic Teaching) Per. s nem. – M. : Genezis, 2003. – 368 p. [in Russian]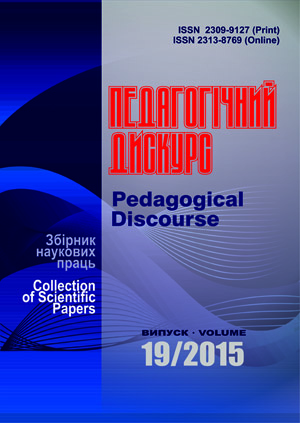 How to Cite
Lytvynenko, S. (2015). Modern Technologies in Organization Process of Education in the Higher Educational Institution. Pedagogical Discourse, (19), 121-125. Retrieved from http://ojs.kgpa.km.ua/index.php/peddiscourse/article/view/213