Some Aspects of Professional Training Organization of Master Degree Students in International Commercial Arbitration in Universities of Great Britain
Olha Nahorna

Khmelnytskyi University of Management and Law
Keywords:
LLM (Master's degree) course, international commercial arbitration, alternative dispute resolution, professional training
Abstract
In this article the author states that in the last decades the growth of globalization processes in the sphere of trade and commerce have led to the popularization of alternative commercial dispute resolution, which gives the opportunity to avoid traditional justice that is considered labor-intensive, expensive and time-consuming. Many factors contribute to the spread of international commercial arbitration as an alternative procedure to ensure effective and timely resolution of disputes. This situation has created a demand for highly qualified professionals – arbitrators in international commercial arbitration who are able to perform their professional duties effectively, in particular to resolve disputes successfully.
Great Britain has accumulated rich practical experience in organizing professional training in the field of international commercial arbitration. Many leading British universities offer prospective students Master's programmes in this specialty, encouraging all comers, even those with the initial non-legal background.
Selective specificity of teaching and learning process in British universities allows students to take courses that fit their interests and needs. Such form of teaching as a moot benefits practical application of training. Equal attention is paid to the study of legal aspects of future professional activity, understanding cultural approaches and intercultural communication importance in alternative dispute resolution.
Master's dissertation and written examination are aimed to test the level of professional thinking skills of future specialists in the field of international commercial arbitration.
It should be noted that high achievements of Masters on the specialty «International Commercial Arbitration» prove their effective organization and functioning in Great Britain.
Downloads
Download data is not yet available.
References
Khodykin R. M. Opyt Velikobritaii v prepodovanii alternativnogo razresheniya sporov (UK experience in the teaching of alternative dispute resolution) / R. M. Khodykin [Еlektronnyi resurs] // Khrestomatiya alternativnogo razresheniya sporov. – Rezhym dostupa : http://coollib.com/b/262293/read [in Russian]

The Bar Council [Elektronnyi resurs]. – Rezhym dostupu : http://www.barcouncil.org.uk/media/207773/2013-14_barristers_in_international_arbitration.pdf [in English]

International arbitration : Corporate attitudes and practices [Elektronnyi resurs]. – School of International Arbitration, Queen Mary, University of London, 2006. – Rezhym dostupu : www.pwc.com/arbitrationstudy [in English]

Postgraduate Courses in Law, Robert Gordon University of Aberdeen [Elektronnyi resurs]. – Rezhym dostupu : www.rgu.ac.uk/better[in English]

U.S. Bureau of Labor Statistics [Elektronnyi resurs]. – Rezhym dostupu : www.bls.gov[in English]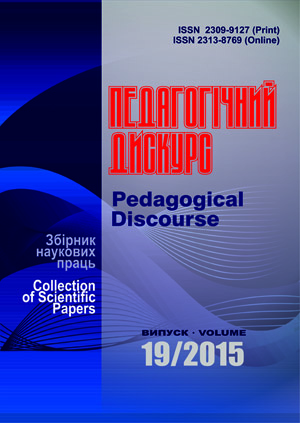 How to Cite
Nahorna, O. (2015). Some Aspects of Professional Training Organization of Master Degree Students in International Commercial Arbitration in Universities of Great Britain. Pedagogical Discourse, (19), 137-140. Retrieved from http://ojs.kgpa.km.ua/index.php/peddiscourse/article/view/216