On the Question of the State of Knowledge of Foreign Language Training in the Higher Education System in Ukraine
Olha Nitenko

National Academy of Internal Affairs
Keywords:
foreign language training, state of knowledge, higher education in Ukraine, foreign language competence
Abstract
The article presents a brief review of scientific works of Ukrainian scientists, which are dedicated to the state of study of the foreign language training of specialists in various fields in higher education system of Ukraine in the period from 2005 to 2015 year. In particular, this is the development of scientific and methodological foundations of the system of professional Business English training of civil servants; the definition of pedagogical conditions of teaching foreign languages for future software engineers through multimedia programs; the representation of an integrated scheme of the classification of models of distance learning, with using its components the institution can create your own model regardless of its needs and opportunities; the implementation of scientific and pedagogical analysis of the problem of the use of foreign language mass media sources in the theory and practice of future journalists training; the presentation of the theory and technology of formation of professional foreign language competence of future Natural Sciences specialists; the coverage of theoretical and methodological problems of formation of professional foreign language competence of students in higher technical educational institutions in distance education; the exercise of professional foreign language training description of future specialists in information and communication technologies in technical universities; as well as the implementation of a comprehensive analysis of foreign language training of economics students in the context of globalization. The article justified the necessity of studying and modernization of the foreign language training of the Ukrainian experts in law taking into account the European experience.
Downloads
Download data is not yet available.
References
Bulakhova Ya.V. Pedahohichni umovy navchannia inozemnykh inzheneriv-prohramistiv zasobamy multymediinykh program, Luhansk, 2007, 20 p.

Demchenko D.I. Formuvannia profesiinoi inshomovnoi kompetentnosti maibutnikh yurystiv u fakhovii pidhotovtsi, Kharkiv, 2010, 20 p.

Mykytenko N. Tekhnolohiia formuvannia inshomovnoi profesiinoi kompetentnosti maibutnikh fakhivtsiv pryrodnychoho profiliu, Ternopil, 2011, 43 p.

Nitenko O.V. Yevropeiskyi dosvid pidhotovky doktoriv filosofii z prava, Problemy osvity: naukovyi zbirnyk In.innovats. technlohij i zmistu osvity MON Ukrajiny, Kyiv, 2014, Vol.78, Part 1, pp. 159–164.

Nitenko O.V. Model inshomovnoi pidhotovky fakhivtsiv prava v trytsyklovii systemi vyshchoi osvity, Humanitarnyi visnyk DVNZ «Pereiaslav-Khmelnytskyi derzh. ped. un-t im. H. Skovorody», Dodatok 1 do Issue 35, Part VIII (59) : Vyshcha shkola Ukrajiny u konteksti intehratsiji do yevropejs'koho osvitnjoho prostoru, Кyiv, Hnozys, 2015, 546 p.

Nitenko O.V. Osoblyvosti pidhotovky fakhivtsiv iz prava na pershomu tsykli vyshchoi osvity u FRN / O.V. Nitenko, Teorija ta praktyka jurydychnoji osvity : zb. materialiv I Vseukr. nauk.-prakt. konf., Yevropejs'kyj un-t, Кyiv, 2012, pp. 149–152.

Opriatnyi S.M. Modeliuvannia systemy profesiinoho navchannia derzhavnyh sluzhbovtsiv dilovoi anhliiskoi movy, Nats. akad. derzh. upr. Pry Prezydentovi Ukrajiny, Кyiv, 2005, 20 p.

Sekret I.V. Formuvannia inshomovnoi kompetentnosti studentiv vyshchykh tehnichnykh navchalnykh zakladiv v umovakh dystantsiinoi osvity. Monohrafiia, Dniprodzerzhynsk, 2011, 384 p.

Sura N.А. Profesiina inshomovna pidhotovka maibutnih fakhivtsiv z informatsiino-komunikatsiinykh tekhnolohii u tekhnichnykh universytetakh, Luhansk, Vyd-vo SNU іm. V. Dalja, 2012, 300 p.

Homenko О.V. Inshomovna pidhotovka studentiv ekonomichnykh spetsialnostei v konteksti hlobalizatsii, Кyiv.: КNUТD, 2014, 364 p.

Chemerys І.M. Formuvannia profesiinoi kompetentnosti maibutnikh zhurnalistiv zasobamy inshomovnykh periodychnukh vydan, Іn-t vyshch. оsvity АPN Ukrajiny, Кyiv, 2008, 20 p.

Shunevych B.І. Rozvytok dystantsiinoho navchannia u vyshchii shkoli krain Yevropy ta Pivnichnoi Ameryk, Іn-t vyshch. оsvity АPN Ukrajiny Кyiv, 2008, 509 p.

Reitynh «Kompas-2013». – [electronic resource], mode of access: http://www.euroosvita.net/index.php/?category=1&id=2632

Nitenko O. Peculiarities of the Foreign Language Training of the Lawyers in Central Europe: Poland, Czech Republic and Hungary, The Caucasus. Tbilisi, 2014. – Issue 06, November-December, pp. 21–26.

Nitenko O. The Newest Master's Degree Programmes in Universities of Austria, Naukovyi zhurnal «Yurydychna psykholohiia ta pedahohika», Кyiv, НАВС, 2013, № 1 (13), pp. 110–116.

Standards and Guidelines for Quality Assurance in the European Higher education Area, European Association for Quality Assurance in Higher education, 2005, [electronic resource], mode of access: http://www.eqar.eu/fileadmin/documents/e4/050221_report.pdf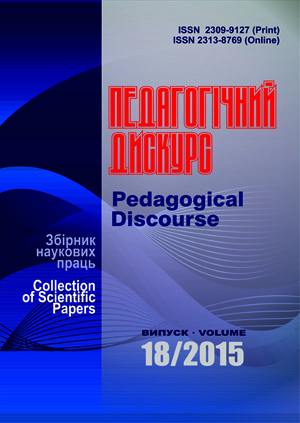 How to Cite
Nitenko, O. (2015). On the Question of the State of Knowledge of Foreign Language Training in the Higher Education System in Ukraine. Pedagogical Discourse, (18), 157-160. Retrieved from http://ojs.kgpa.km.ua/index.php/peddiscourse/article/view/274
This work is licensed under a Creative Commons Attribution-NonCommercial-ShareAlike 4.0 International License.