The role of a tutor in teaching values
Anna Pekala

Institute of Preschool and School Education of the Academy of Jan Dlugosz in Czestochowa
Keywords:
values, axiological education, tutor
Abstract
Commenting on the nowadays crisis of values, the author notes that the main source of problem is in men and their perception of the values and concludes that education of values is one of the most important tasks of modern education.
The role of education of moral values in preparing for future functioning in society and building correct interpersonal relations is emphasized.
The problem of defining the value concept from a viewpoint of different sciences (as category of culture, philosophy, sociology) is analyzed in the article.
The concept of education is considered as complex process which is characterized by stages taking place one after another. It is noted that a properly organized process of moral education requires attention to details. The exchange of content between its participants (teacher and pupils) must be executed in full integration, selection and respect of the methods, rules, forms of education, the conditions and means. The author stresses on the essential importance of a good selection of methods of treatment of the pupils.
A special role in the process of axiological education is given to a tutor. The author believes that the tutor cannot get away from defining certain value criteria according to which one will shape the education process. Recognition of the values ​​of human dignity, freedom, the right to live and solidarity between people is an axiological foundation. Values have a universal dimension, as in every single axiological system, regardless of beliefs or religion; they serve a man, treating him as the central character.
The author points out, that nowadays the educational tasks at schools are undervalued. Children are not taught what is good and what are bad, schools do not inculcate the habit of acting according to a fundamental differentiation. The role of discipline is minimized, tutors do not have any instruments to discipline the youth, fearing that the punishment may infringe upon the dignity of a young man.
Education requires the provision of assistance in the adopted goals and the applied methods. The aim of education should be introducing the student to the world of objective truth about himself and his life. Methods must show the values ​​and moral principles, shape attitudes based on discipline, awareness and freedom. Methods must give clear requirements; show the authority, they must form mature family, social and religious ties.
The school should help the pupil to be capable of self-reflection, to understand that discovering the meaning of human life is more important than learning phenomena, things, animals, etc. Responsible teacher will not allow a situation where a graduate is more and more aware of the world but does not understand oneself. It should be noted that the process of shaping moral attitudes starts by imitation and identification with people who are important for the child.
That is why universal values play an extremely important role and why they should support the process of education. They allow the pupil the continuous growth of personality. A young person growing up in an environment where human values ​​are respected and transmitted, learns about proper relationship with the others, understands the meaning of human existence, recognizes the value of work, culture, learns empathy, how to respect and how to be responsible. In time the pupil knows how to distinguish the good from evil and the pupil can resign from egoistic purposes for the benefit of higher needs.
It is concluded, that understanding the values ​​and their role occupies an important place in the educational process of every man. Therefore, the ones who direct these processes have such an important role. It should be noted that a properly conducted educational activity leads not only to the moral character of each pupil, but also of the whole society. It is therefore necessary that every teacher has not only axiological knowledge, but above all one can transmit it to the pupils.
Downloads
Download data is not yet available.
References
Buttiqlione R., Primacy of conscience [Prymat sumienia], «Niedziela Akademicka» no 4, January 23.

Cichoń W., Values, man, education: the outline of axiological and educational issues [Wartości, człowiek, wychowanie: zarys problematyki aksjologiczno – wychowawczej], Kraków 1996.

Czerny J., The outline of axiological pedagogy [Zarys pedagogiki aksjologicznej], Katowice 1998.

Denek K., Axiological aspects of school education [Aksjologiczne aspekty edukacji szkolnej], Toruń 2000.

Frączek Z., Axiological education in view of the present needs [Edukacja aksjologiczna wobec potrzeb współczesności], Rzeszów 2002.

Gajda J., Values in educaion, source: Pedagogical Encyclopedy of XXI century, vol. VII, editor in chief T. Pilch [Wartości w wychowaniu, [w:] Encyklopedia pedagogiczna XXI wieku, Tom VII, red. T. Pilch] Warszawa 2008.

Łobocki M., Wychowanie moralne w zarysie, Oficyna Wydawnicza Impuls, Kraków 2002

Matusewicz Cz., Psychology of values [Psychologia wartości], Warszawa – Poznań 1975.

Okoń W., New pedagogical dictonary [Nowy słownik pedagogiczny], Warszawa 2004.

Olbrycht K., Truth, good and beauty in teaching a man a person [Prawda, dobro i piękno
w wychowaniu człowieka jako osoby], Katowice 2000.

Sobański R., To appreciate one's own history, Sorce: Gość Niedzielny. [Docenić własną historię], «Gość Niedzielny» 13 stycznia 2008

Wojnar I., Values of culture and a personality of a teacher [Wartości kultury a osobowość nauczyciela], «Nowa szkoła» 3/1982.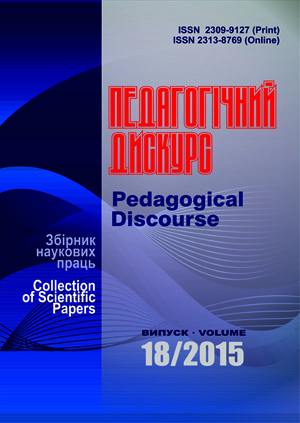 How to Cite
Pekala, A. (2015). The role of a tutor in teaching values. Pedagogical Discourse, (18), 171-176. Retrieved from http://ojs.kgpa.km.ua/index.php/peddiscourse/article/view/277
This work is licensed under a Creative Commons Attribution-NonCommercial-ShareAlike 4.0 International License.