Secondary School Education in Poland and Ukraine: Contemporary Analysis
Serhii Stokratnyi

Khmelnytskyi Humanitarian-Pedagogical Academy
Keywords:
education, reform, school, lyceum, gymnasia, exams, final attestation, independent evaluation
Abstract
The system of secondary school education in Poland has been studied in the article. Under the conditions of implementation of the Concept of education of Ukraine development for the period of 2015 – 2025, some questions of school education reforming, new educational standards and programs have been discussed. The experience of Poland as for the education reforming in the direction of European integration can be useful for the domestic reformers.
The author examines general processes of education in Poland reforming, the source base on this problem has been analyzed. The stages of school education in Poland have been characterized. Their comparison with the proper stages of school education of Ukraine allowed us to determine some peculiarities and possible directions of reforming. The review of works of domestic and Polish scientists proves that the reform of secondary education in Poland led to the positive results.
The author pays special attention to the comparative analysis of the system of school education of both countries. Thanks to this approach some differences as for the questions of school education have been found out.
Analysis of Polish way can give us the chance to determine innovational approaches and efficient tools as for provision of effective functioning and improvement in Ukraine the system of education and the structure of its state management.
Downloads
Download data is not yet available.
References
Andrushkevych F. Innovacii v polskii ta ukrainskii osviti : jak naslidok pidpysannia yevropeiskykh osvitnikh deklaracii : (porivnjaljnyj analiz) / Fabian Andrushkevych. Dyrektor shk., liceiu, himnazii, 2011, № 2, pp. 32–40.

Vasyliuk A. Polshcha i Ukraina: kontseptualni pidkhody do reformuvannya systemy ociniuvannia (porivnialnyi analiz). Osvita i upravlinnia, 2002 , Vol. 4., № 3–4, pp. 40–44.

Ghrynevych L. Detsentralizaciia upravlinnia osvitnioiu systemoiu (na prykladi Poljshchi). Osvita i upravlinnya, 2004, Vol. 7, № 3–4, pp. 58–62.

Hromov Ye. V. Porivnialnyi analiz napriamiv reformuvannya osvity u Poljshchi ta v Ukraini naprykinci XX stolittya. Teoretychni ta metodychni zasady rozvytku pedaghoghichnoi osvity: pedaghoghichna maisternist, tvorchist, tekhnologhii, Kharkiv, 2007, pp. 567–570.

Zakon Ukrainy «Pro vyshchu osvitu» [electronic resource], mode of access : http://zakon4.rada.gov.ua/laws/show/1556-18.

Pro poryadok zakinchennya navchalnoho roku ta provedennia derzhavnoi pidsumkovoi atestacii u zahalnoosvitnikh navchalnykh zakladakh v 2013/2014 navchaljnomu roci : Lyst MON № 1/9-115 vid 14.02.2014 r. [electronic resource], mode of access : http://osvita.ua/legislation/Ser_osv/39600/.

Edukacja Raport 1997–2001. Ministerstwo Edukacji Narodowei, Warszawa, 2001, 71 p.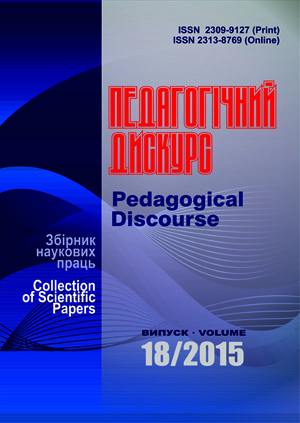 How to Cite
Stokratnyi, S. (2015). Secondary School Education in Poland and Ukraine: Contemporary Analysis. Pedagogical Discourse, (18), 200-204. Retrieved from http://ojs.kgpa.km.ua/index.php/peddiscourse/article/view/284
This work is licensed under a Creative Commons Attribution-NonCommercial-ShareAlike 4.0 International License.