Theoretic-Methodological Strategy of Professional Self-Development of the Leader of an Orchestra in the System of Higher Education
Yuliia Kharchenko

Melitopol Bohdan Khmelnytskyi State Pedagogical University
Keywords:
theoretic-metodological strategy, self-development, axiology approach, humanistic approach, akmeology approach
Abstract
The article presents some ways of the theoretical-methodological strategy that reveals trends and general research plan of self-development leader of an orchestra in the system of higher education. The theory is represented by axiology, humanìstic and acmeology systems of training. In accordance with the idea of axiology in the process of professional approach to self-development of the leader of an orchestra, there is the necessity of the formation of system of value orientations that define the overall direction of the interests and aspirations of the personality, a hierarchy of individual benefits, motivational program activities and finally, determine the level of preparation of the specialist to implement life and professional plans.
Humanistic system involves the humanization of all aspects of the leader of an orchestra, namely: the creation of conditions for its professional development, self-development, creative self-realization, disclosure of their natural abilities and capabilities of their own potential. The expected results of the humanistic approach to self-development of the leader of an orchestra are: self-expression, self-knowledge, creativity, achievement of the physiological harmony, in communication, positive life attitude.
Acmeology system of training directs the leader of an orchestra to the self- development, self-education and self- expression of personality. This method incorporates a dynamic variety of spiritual, psychological, mental and physiological aspects of human nature.
Downloads
Download data is not yet available.
References
Andreev V. Y. Pedahohyka: Uchebny'j kurs dlya tvorcheskoho samorazvitiya, Kazan', Centr innovacionny'x texnolohiy, 2006.

Bezduxov V. P. Cennostny'j podxod k formirovaniyu gumanisticheskoj napravlennosti studenta – budushhego uchitelya, Samara : yzd-vo Sam. hos. ped. un-ta, 2000, 185 p.

Derkach A. A. Metodologo-prikladny'e osnovy' akmeologicheskix issledovanij : [monohr.], Moscow. : yzd-vo RAHS, 1999, 391 p.

Kir'yakova A. V. Teoriya orientacii lichnosti v mire cennostej : [monohr.], Orenburg, 1996, 188 p.

Kuz'mina N. V. Predmet akmeologii, SPb. : Polytekhnyka, 2002, 189 p.

Mixal'cova L. F. Formyrovanie cennostno-smy'slovy'x orientacij budushhix pedagogov na tvorcheskoe samorazvitie v usloviyax neprery'vnogo obrazovaniya, Kazan', Centr innovacionny'x texnolohiy, 2011, 360 p.

Nikitina N. N. Osnovy' professional'no-pedagogicheskoj deyatel'nosti, Moscow, Masterstvo, 2002, 288 p.

Rozov N. S. Cennosti gumanitarnogo obrazovaniya, Vy'sshhee obrazovanie v Rossii, 1996, pp. 85–88.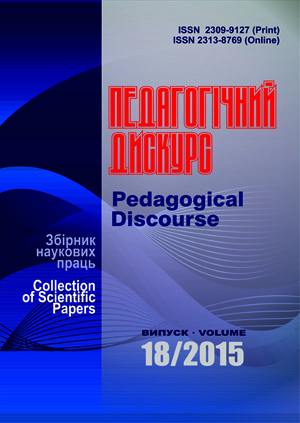 How to Cite
Kharchenko, Y. (2015). Theoretic-Methodological Strategy of Professional Self-Development of the Leader of an Orchestra in the System of Higher Education. Pedagogical Discourse, (18), 254-258. Retrieved from http://ojs.kgpa.km.ua/index.php/peddiscourse/article/view/295
This work is licensed under a Creative Commons Attribution-NonCommercial-ShareAlike 4.0 International License.