Pedagogical Conditions of Forming Natural-Scientific Competence of the Future Ecologists
Halyna Biletska

Khmelnytskyi National University
Keywords:
professional ecologic education, natural-scientific preparation, pedagogical conditions
Abstract
It is grounded in the article that forming natural-scientific competence of the future ecologists can be guaranteed under the following pedagogical conditions: renovation of the content of natural-scientific preparation; introduction of the technologies of teaching with the use of informational educational environment, which offers broad access to the educational resources, guarantee the abilities for self-education and realization of individual educational path; availability of teaching-methodological providing for the formation and evaluation of the state of forming natural-scientific competence; ability of the teacher to conduct educational process using modern educational technologies, to create conditions for the manifestation of independence, initiativeness and creative work of students; forming equal partnership relations of the student and the teacher.
Downloads
Download data is not yet available.
References
Babanskіj Yu.K. Optіmіzacіya processa obuchenіya : obshhedіdaktіcheskіj aspekt / Yu. K. Babanskіj. – M. : Pedagogіka, 1997. – 254 р.

Velykyj tlumachnyj slovnyk suchasnoyi ukrayinskoyi movy / [avt.-uklad. Busel V.]. – K. ; Irpin : Perun, 2001. – 1440 р.

Zeer Е'.F. Lіchnostno orіentіrovannoe professіonalnoe obrazovanіe / Е'.F. Zeer. – Ekaterіnburg : Іzd-vo Uralskogo pedagogіcheskogo unіversіteta, 1998. – 126 р.

Ippolitova N. Analiz ponyatiya «pedagogicheskie usloviya» : sushhnost', klassifikaciya [Elektronny'j resurs] / N. Ippolitova, N. Sterxova // General and Professional Education. – 1/2012. – pp. 8-14. – Rezhim dostupa : http://genproedu.com/paper/2012-01/full_008-014.pdf.

Biletska G. A. Pryrodnycho-naukova pidgotovka majbutnix ekologiv : sutnist ta stan problemy u pedagogichnyx doslidzhennyax / G. A. Biletska // Vyshha osvita Ukrayiny. – 2014. – Volume 1. – pp. 60-65.

Pometun O. I. Umovy realizaciyi kompetentnisnogo pidxodu v navchalnomu procesi / O. I. Pometun, S. E. Trubacheva // Kompetentnisnyj pidxid u suchasnij osviti : svitovyj dosvid ta ukrayinski perspektyvy : Biblioteka z osvitnoyi polityky / Pid. zag. red. O. V. Ovcharuk. – K. : «K.I.S.», 2004. – Р. 64-70.

Ovchynnykova M. V. Informacijno-osvitne seredovyshhe yak obyekt vyvchennya u profesijnij pidgotovci vchytelya matematyky [Elektronnyj resurs] / M. V. Ovchynnykova // Pedagogichni nauky: teoriya, istoriya, innovacijni texnologiyi. – 2011. – Volume 1(11). – Rezhym dostupu : http://www.ime.edu-ua.net/em3/content.

Bykov V. Yu. Modeli organizaciyi system vidkrytoyi osvity : monohrafiia / V.Yu Bykov. – K. : Atika, 2009. – 684 р.

Biletska G. A. Vykorystannya MOODLE u pidgotovci studentiv-ekologiv za dennoyu formoyu navchannya / G. A. Biletska // Onovlennya zmistu, form ta metodiv navchannya i vyxovannya v zakladax osvity // Zbirnyk naukovyx pracz. Naukovi zapysky Rivnenskogo derzhavnogo gumanitarnogo universytetu. – Volume 7 (50). – Rivne : RDGU, 2013. – pp. 11 – 15

Testov V. A. Strategiya obrazovaniya v usloviyax setevogo prostranstva [Elektronnij resurs] / V.A. Testov // Sistemnыe strategii : nauka, obrazovanie, informacionnыe texnologii : sb. nauch. st. Vseros. konf. – Vologda : VGPU, 2013. – pp. 126-131. – Rezhim dostupu : http://www.ime.edu-ua.net/em3/content.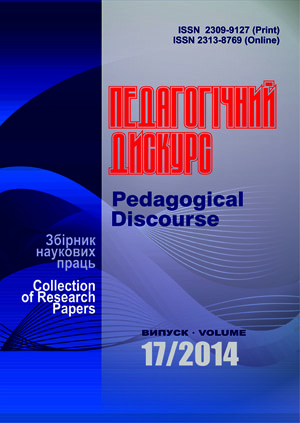 How to Cite
Biletska, H. (2014). Pedagogical Conditions of Forming Natural-Scientific Competence of the Future Ecologists. Pedagogical Discourse, (17), 15-19. Retrieved from http://ojs.kgpa.km.ua/index.php/peddiscourse/article/view/306
This work is licensed under a Creative Commons Attribution-NonCommercial-ShareAlike 4.0 International License.