Essence of Innovative Pedagogical Activity
Yurii Zavalevskyi

Institute of Innovational Technologies and Content of Education
Keywords:
innovative pedagogical activity, innovative processes, innovation (innovatika), education of Ukraine, innovative development
Abstract
The question of development of education in Ukraine taking into account eurointegration that stipulated the necessity of development of innovative processes for educational branch has been considered in the article. The necessity of changes in the activity of a teacher which will result in high-quality changes in educational process of general educational establishment and approaching of its results to the standards of European educational space has been grounded. The analysis of problems of modern education has been done. The components of professional readiness of a teacher have been determined and the accent on the advantages of innovative pedagogical activity has been made.
Downloads
Download data is not yet available.
References
Vasylieva M. P. Teoriia pedahohichnoi deontolohii : monohrafiia / M. P. Vasylyeva ; Khark. derzh. ped. un-t im. H. S. Skovorody. – KH. : Nove slovo, 2003. – 216 s.

Volovych V. Bolonskyi protses i nova paradyhma osvity v Ukraini / V. Volovych // Sotsiolohiya : teoriya, metody, marketynh. – 2004. – № 4. – S.192-198.

Honcharenko S. U. Ukrayinskyi pedahohichnyi slovnyk / S. U. Honcharenko. – K. : Lybid, 1997. – 376 s.

Hrabovska T. I. Innovatsiinyi rozvytok osvity : Osoblyvosti, Tendentsii, perspektyvy / T. I. Hrabovska, M. I. Talapkanych, V. V. Khymynets – Uzhhorod, 2006. – 232 s.

Demydenko T. M. Pidhotovka maybutnoho vchytelia trudovoho navchannia do innovatsiinoi diialnosti: Avtoref. dys ... kand. ped. nauk : 13.00.04. / T. M. Demydenko. – Cherkaskyi natsionalnyi universytet. – Cherkasy, 2004. – S.17.

Dychkivska I. M. Innovatsiini pedahohichni tekhnolohii / I. M. Dychkivska. – K. : Akademvydav, 2004.

Dychkivska I. M. Formuvannia intelektualnykh motyviv u konteksti innovatsiinoho navchannia v pidhotovtsi fakhivtsiv : metodolohiia, tekhnolohiia, teoriia, dosvid, problemy. Zbirnyk nauk. prats. CH.3. / I. M. Dychkivska. – Kyiv – Vinnytsia, 2003. – S.327 – 331.

Zavalevskyi Yu. I. Konkurentospromozhnyi vchytel : Teoriia i praktyka: Navch. posibnyk / Yu. I. Zavalevskyi. – Chernivtsi : Bukrek, 2010. – 216 s.

Kozlova O. H. Pidhotovka vchytelia do innovatsiinoi diialnosti v systemi pisliadyplomnoi osvity : Avtoref. dys .... kand. ped. nauk : 13.00.04 / O. H.Kozlova. – K. : APN Ukrainy, 1997. – 19 s.

Sysoieva S. O. Pidhotovka vchytelia do formuvannia tvorchoi osobystosti uchnia / S. O. Sysoieva. – K. : Polihrafknyha, 1996. – 406 s.

Khymynets V. V. Innovatsii v suchasnii shkoli / V. V. Khymynets. – Uzhhorod, 2004. – 168 s.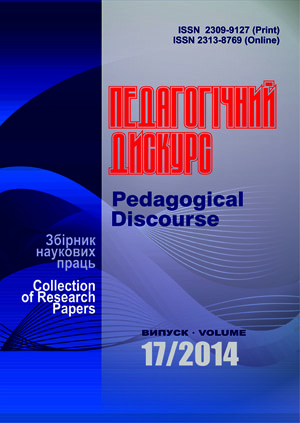 How to Cite
Zavalevskyi, Y. (2014). Essence of Innovative Pedagogical Activity. Pedagogical Discourse, (17), 63-70. Retrieved from http://ojs.kgpa.km.ua/index.php/peddiscourse/article/view/316
This work is licensed under a Creative Commons Attribution-NonCommercial-ShareAlike 4.0 International License.