Modern Tendencies of Development of Native Language Education of Ukrainians Abroad
Svitlana Romaniuk

Chernivtsi Yurii Fedkovych National University
Keywords:
Ukrainian Diaspora, native language, language education, Ukrainian schooling, bilingual programs, didactic support, language policy
Abstract
The factors, which influenced over formation of the language policy of Ukrainian western Diaspora and, accordingly, the development of native language education of Ukrainians abroad have been analyzed in the article. It is found out that in the far abroad countries it is provided by native schools, schools and courses of Ukrainian studies, state bilingual schools or bilingual classes, faculties in the Universities, special educational courses. Scientific-didactic accompanying of teaching the language as a mother tongue and the second language is guaranteed by the methodological center of Ukrainian language, which is founded in University of Alberta (Canada). The role of language as the basic means of forming national consciousness and preserving ethnocultural identity of the Diaspora Ukrainians has been determined.
Downloads
Download data is not yet available.
References
Haryachyy mikrofon // Visnyk. – 1993. – CH.3. – S.8–13.

Humets'ka A. Ukrayins'ka mova s'ohodni y zavtra / Asya Humets'ka // Ridnoshkil'nyk. – 2000. – CH.44. – S.7–8.

Do ukrayins'koyi hromady // Ridna shkola. – 1989. – CH.2. – S.4.

Zvit Ukrayins'koyi Tsentral'noyi Shkil'noyi Rady (UTSSHR) Avstraliyi (2003-2008 rr.) / Orysya Stefyn [Elektronnyy resurs]. – Rezhym dostupu osvita.ukrainianworldcongress.org/Avsralija-shkola-zvit-2003-2008.

Karpenko S. Problemy ta perspektyvy ukrayins'koho shkil'nytstva za kordonom / Svitlana Karpenko // Ukrayinoznavstvo. – 2007. – S.329–332.

Kashpirovs'ka I. Analiz stanu osvity v ukrayins'kiy diaspori Kanady za rezul'tatamy monitorynhu (ankety anhliys'koyu movoyu) / Iryna Kashpirovs'ka // Ukrayinoznavstvo. – 2006. – №4. – S.351–353.

Levyts'ka O. Suchasnyy stan ukrayins'koho shkil'nytstva pry UNO Kanady ta perspektyvy yoho rozbudovy / Oksana Levyts'ka // Borysten. – 2011. – CH.4. – S.16–18.

Musiyenko N. Ukrayins'ke shkil'nytstva v SSHA: dosvid samoorhanizatsiyi / Nataliya Musiyenko // Ridna shkola. – 2004. – №4. – S.69-71.

Pro pratsyu shkilnoyi rady (1989 – 1992 rr.) (Zi zvitu holovy Shkil'noyi Rady dyrektora Yevhena Fedorenka na zahal'nykh zborakh v chervni 1992 r. // Ridna shkola. – 1992. – CH.3. – S.12–16.

Rychok R. Na movnomu rozputti / Roman Rychok // Svoboda. – 2005. – 7 zhovtnya.
11. Rik 1989 – Rik ukrayins'koyi movy. Zvernennya prezydiyi sekretariatu SKVU // Ridna shkola. – 1989. – CH.2. – S.3–4.

Fedorenko Ye. Shkil'na rada: zdobutky, problemy. Dopovid' na Z'yizdi Shkil'noyi Rady pry UKKA 9-11 zhovtnya 2009 roku (Skorocheno) / Yevhen Fedorenko // Ridna shkola. – 2009. – CH.3. – S.1–4.

Khoynats'ka N.-L. Pedahohy «chetvertoyi khvyli» v shkoli ukrayinoznavstva: pozytyvy i nehatyvy / Nadiya-Lyudmyla Khoynats'ka // Ridna shkola. – 2005. – CH.1. – S.22–25.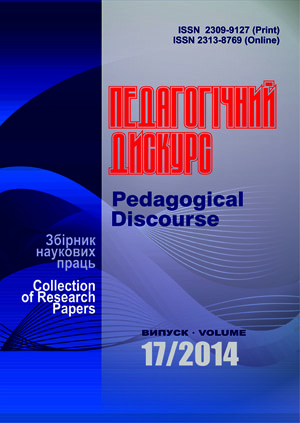 How to Cite
Romaniuk, S. (2014). Modern Tendencies of Development of Native Language Education of Ukrainians Abroad. Pedagogical Discourse, (17), 141-148. Retrieved from http://ojs.kgpa.km.ua/index.php/peddiscourse/article/view/331
This work is licensed under a Creative Commons Attribution-NonCommercial-ShareAlike 4.0 International License.