Influence of Pedagogical Conditions over the Process of Creative Self-Realization of Teenagers
Olha Fliarkovska

Institute of Innovational Technologies and Content of Education of the Ministry of Education and Science of Ukraine
Keywords:
activity, educational process, teenager, stimulation, creative self-realization, formation of readiness
Abstract
This article is devoted to the results of survey research students of secondary schools on the formation of readiness for creative self-realization in the extracurricular educational work. The article focuses on the need to develop creative self-realization of teenagers. It is noted that the set of pedagogical conditions of extracurricular educational activities, provide a positive impact on both the teenager and the teacher on the formation of readiness for creative self-realization of teenagers during extracurricular educational work of an educational institution. Also it stresses on the need for a new objective preconditions for the development of fundamentally new approaches to the adolescent's preparedness activities, providing him or her the opportunity to more complete and successful creative self-realization. The article states that in the process of preparedness for creative self-realization of teenagers, first performed willingness and ability to action toward creative self-realization there personal involvement in the simulations goals and objectives of their future, while approved by the idea of creative fulfillment.
Downloads
Download data is not yet available.
References
Bekh I. D. Psykholohichni dzherela vykhovnoyi maysternosti : navch. posib. / I. D. Bekh. – 2009. – 248 s.

Bozhovych L. Y. Lychnost' y ee formyrovanye v det•skom vozdaste / L. Y. Bozhovych. – M. : Prosveshchenye, 1968.

Él'konyn D. B. Problemy vozrastnoy y pedahohycheskoy psykholohyy / D. B. Él'konyn; pod red. D. Y. Fel'dshteyna. – M. : Mezhdun. ped. akademyya, 1995. – 224 s.

Rybalka V. V. Psykholohiya rozvytku tvorchoyi osobystosti: navch. posib. / V. V. Rybalka. – K., IZMN, 1996. –236 s.

Fromm É. Behstvo ot svobody: per. s anhl. H. F. Shveynyka / É.Fromm. – M. : Prohress, 1990. – 269 s.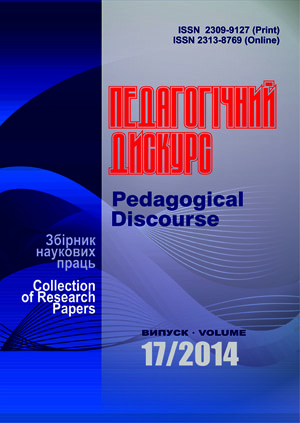 How to Cite
Fliarkovska, O. (2014). Influence of Pedagogical Conditions over the Process of Creative Self-Realization of Teenagers. Pedagogical Discourse, (17), 190-195. Retrieved from http://ojs.kgpa.km.ua/index.php/peddiscourse/article/view/339
This work is licensed under a Creative Commons Attribution-NonCommercial-ShareAlike 4.0 International License.