The Role of Language as a Component in the Development of the Personality's Culture
Natalia Shatska

Zaporizhzhia Regional Institute of Postgraduate Pedagogical Education
Keywords:
language, language culture, language phenomena, role of language
Abstract
The analysis and grounding of theoretical approaches to clearing out the question as for importance of mother tongue both for personality and for the population of a particular locality has been shown in the article. The researchers define the language phenomenon (the chronicle of the history and people's spiritual life, the reflection of their main traditions and customs, the maintenance of cultural succession between generations, the role in person's cultural formation). The language is also the main expedient for individual's construction of relations with other people and organization of interaction with them. The author offers the scientists' views as for interpretation of the terms «language», «language culture»; the functions of the language, the manifestation of language culture and the definition of the language role. It should be noted that for communication on the territory of multicultural communities one and a few languages can be used. So the best variant is such when a person learns not only the mother tongue, but also the other languages.
Downloads
Download data is not yet available.
References
Zаgnіtkо P. Osnovy movlennyevoi diyalnosty / P. Zagnitko, І. R. Domrachova. – Donetsk : Ukrainskiy kulturologichniy zentr, 2001. – 56 s.

Onufrienko G. S. Movno-ritorichna kompetentsiya yak nevidyemna oznaka osvichenosty i chinik professionalizmu / Onufrienko G. S. // Mova yak chinik formuvannya gromadyanina Ukrainy: mater. vseukr. Naukovo-prakt.konf., (16-17 travnya 2008 r.). – Zaporizhzhya : ZOIPPO, 2008. – S. 208-216.

Sovremenniy slovar po pedagogike / Sost. Rapatsevitch E. S. – Minsk : Sovremennoye Slovo, 2001. – 928 s.

Sossyur F. Kurs sagalnoi lingvistiki / F. de Sossyur. – Kiev : Osnovi, 1998. – 324 s.

Suchasna ukrayinska mova : pidr. / О. D. Ponomariv, V. V. Rizun. – 3-tye vid., pererob. – К. : Libid, 2005. – 488 s.

Kochergan М. P. Zagalne movoznavstvo/ М. P. Kochergan. – Vid. 3-tye, dop. – К. : VC «Akademiya», 2010. – 464 s

Khalupo О. I. Yazikova kultura I lingvokulturna kompetentsiya / О. I. Khalupo // Vestnik Chelyabinskogo gosudarstvennogo universiteta. – Philologiya. Iskustvovedeniya. – 2011. – № 3 (218). – Vip. 50. – S. 152–155.

Biletskiy O. A. Pro movu ta literaturoznavstvo / А. О. Biletskiy. – К., 1996.

Antipina G. S. Teoretiko-metodologichni problemi issledovaniya malih sozialnih grup / G. S. Antipina. – L., 1982.

Pasinok V. G. Osnovi kultury movlennya / V. G. Pasinok. – Kharkiv: HNU imeni V. Karazinа, 2011. – 186 s.

Pasinok V. G. Teoretichni osnovi formuvannya profesiynih movlennyevih umin u maibutnih uchiteliv nefilologichnih spezialnostey: 13.00.04. – Kiev, 2002. – 425 s.

Sukhomlinskiy V. О. Slovo ridnoyi movi / V. О. Sukhomlinskiy // Ukrainska mova i literatura v shkoli. – № 12. – 1968. – S. 2.

Andryunina М. V. Yazikova kultura yak instrument socialnogo vihovannya. [Elektronniy resurs]. – Rezhym dostupu : http://www.rusnauka.com/23_SND_2008/Pedagogica/26653.doc.htm

Rusanivskiy V. М. Zhyttya slova / V. М. Rusanivskiy, S. Ya. Yermolenkо – К.: Vid-vо pri Кievskomu derzhavnomu universitetі vidavnichogo obyednannya «Visha Shkola», 1978. – S. 3.

Philosofskiy enziklopedicheskiy Slovar / [red.-sost. E. F.Gubskiy, G. V. Korablyeva, V. А. Lutchenko I drugiye.]. – М. : Infra М, 2003. – 576 s.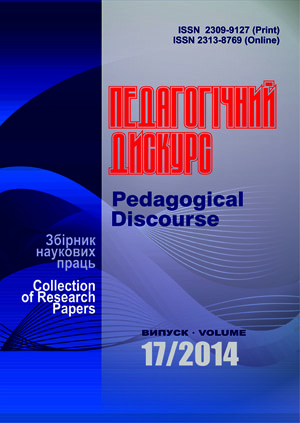 How to Cite
Shatska, N. (2014). The Role of Language as a Component in the Development of the Personality's Culture. Pedagogical Discourse, (17), 208-212. Retrieved from http://ojs.kgpa.km.ua/index.php/peddiscourse/article/view/346
This work is licensed under a Creative Commons Attribution-NonCommercial-ShareAlike 4.0 International License.