Providing Social and Educational Services to Young People under the Conditions of Khmelnytskyi Regional Centre of Social Services for Family, Children and Youth
Liudmyla Yakubova

Khmelnytskyi National University
Keywords:
socio-pedagogical, services, young people
Abstract
This article describes and analyzes the provision of social and educational services by the staff of social services for family, children and youth. We have described the information relating the activity of Khmelnytsky Regional Centre of Social Services for Family, Children and Youth, which concerns the organization of social services for youth. We considered the question as for the the principles and accounting of provision of social services, the order of social services offering, categories of beneficiaries and glossary of problems, among which we have selected those that relate to young people, young families etc.
Downloads
Download data is not yet available.
References
Zakon Ukrayiny «Pro sotsial'ni posluhy» // Vidomosti Verkhovnoyi Rady. – 2003 − №45 – st.358.

Nakaz Derzhsotssluzhby «Pro zatverdzhennya Instruktsiyi z obliku roboty v tsentrakh sotsial'nykh sluzhb dlya sim'yi, ditey ta molodi» vid 24.05.2007. – № 24.

Posluhy sotsial'nykh sluzhb dlya ditey, molodi, riznykh katehoriy simey m. Kyyeva. Informatsiyno-reklamna zbirka / Pid red. Shenderovs'koho K. S., Tkach I. Ya. – K. : KMTSSSM, 2004. – 86 s.

Sotsial'na robota v Ukrayini: navch. posib. / I. D. Zvyeryeva, O. B. Bezpal'ko, S. Ya. Kharchenko ta in.; za zah. red. : I. D. Zvyeryevoyi, H. M. Laktionovoyi. – K. : Tsentr navchal'noyi literatury, 2004. – 256 s.

Sotsial'na robota v Ukrayini : [navch. posib.] / za red. I. D. Zverevoyi, H. M. Laktionova. – Kyyiv, 2003. – 254 s.

http://www.niss.gov.ua/articles/1328/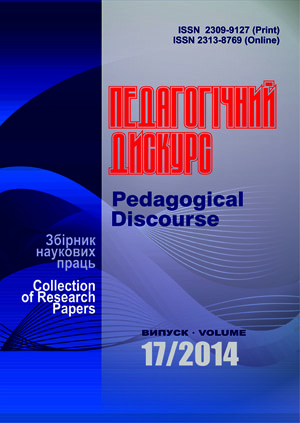 How to Cite
Yakubova, L. (2014). Providing Social and Educational Services to Young People under the Conditions of Khmelnytskyi Regional Centre of Social Services for Family, Children and Youth. Pedagogical Discourse, (17), 226-230. Retrieved from http://ojs.kgpa.km.ua/index.php/peddiscourse/article/view/350
This work is licensed under a Creative Commons Attribution-NonCommercial-ShareAlike 4.0 International License.