Training of the Future Teachers of Pre-School Education to Forming Generalizations of Preschool Children
Abstract
The article analyzes the training of the future professionals of preschool education to form generalizations in preschool children. The urgency of solving this problem. It is caused by the fact that the Ukrainian society was a question of viewing traditional, well-established positions, given the current social realities. The need to review and reform of the education system - one of the issues that needs serious holistic approach and development of such models, particularly in preschool education cycle that would be efficient and effective. Especially urgent need for reforms in the education system is determined by the fact that Ukraine is the European and world cultural and information space. Specificity of national education reform and the creation of new national education system is that it must be reconciled national traditions and effective modern educational trends. The scientific work is widely represented fully comprehensive model that would reflect all the necessary parameters of training future teachers of preschool educational institutions to form generalizations.
Proper attention is paid to the analysis presented model components, namely, objective, competence, principles, phases, components, criteria, indicators, tools, forms, methods of work and levels.
An integral component of this model is the pedagogical conditions: the direction of the educational process for the formation of future educators generalizations in preschool children, taking into account the results of psychological and educational assessment preschool children; add content educational qualification characteristics and educational and professional program of specialized training courses on forming a generalization; the relationship of family and personal training and development in the process of generalization of preschool children.
Training of the future teachers to form generalizations in preschool children is an integrated system that includes all the necessary components for the training of young specialists in preschool education.
Key words: model, preparation, training, teacher, preschool education, senior school age, educational orientation, synthesis, competence component.
Downloads
Download data is not yet available.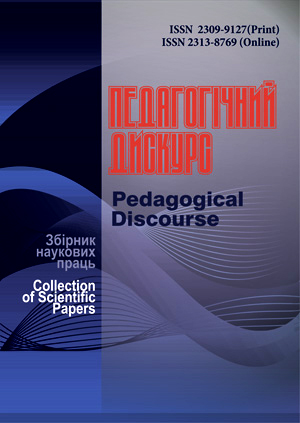 How to Cite
Sukhoviienko, N. (2017). Training of the Future Teachers of Pre-School Education to Forming Generalizations of Preschool Children. Pedagogical Discourse, (22), 164-169. Retrieved from http://ojs.kgpa.km.ua/index.php/peddiscourse/article/view/37