Biographical Method in the Historical and Pedagogical Science: the Leading Trends of Formation
Hanna Belan

Kherson State University
Keywords:
biography, biography of the pedagogue, biographical method, , historical and pedagogical science
Abstract
The article is a brief summary of the results of the research devoted to the formation and peculiarities of functioning of the biographical method in the historical and pedagogical science. The article provides consideration of the occurrence of the biographical method in the sociological and philosophical sciences, it shows the history of the term «biographical method» and its contents through the prism of the attitudes of leading domestic and foreign sociologists.The author analyzes the origins of the formation of the biographical method as a tool for scientific research of a person, sources of biographical material and their most common classifications, background and specifics of use of the biographical method in the national historical and pedagogical discourse.
Downloads
Download data is not yet available.
References
Валевский А. Л. Основания биографики / А. Л. Валевский. – К. : Наук. думка, 1993. – 110 c.
Девятко И. Ф. Методы социологического исследования / И. Ф. Девятко. – Екатеринбург : изд-во Урал. ун-та, 1998. – 208 с.
Дзеверін О. Г. Розвиток історико-педагогічної науки в УСРР / О. Г. Дзеверін // Розвиток народної освіти і педагогічної науки в Українській РСР : наукові записки. – Т. VІ. – К. : Радянська школа, 1957. – 447 с.
Менжулін В. І. Біографічний підхід в історико-філософському пізнанні : [моногр.] / Вадим Менжулін. – К. : НаУКМА [Аграр Медіа Груп], 2010. – 455 с.
Мещеркина Е. Феминистский подход к интерпретации качественных данных / Е. Мещеркина // Введение в гендерные исследования. Ч. 1. – Харьков-СПб., 2001. – С. 197–237.
Рюткенен М. Чтение женского автобиографического текста с применением гендерной методологии / М. Рюткенен // Женщина. Гендер Культура. – М., 1999. – С. 321–330.
Руус Й. П. Контекст, аутентичность, референциальность, рефлексивность: назад к основам автобиографии / Й. П. Руус // Биографический метод в изучении постсоциалистических обществ. – СПб., 1997. – С. 7–14.
Сухомлинська О. Історико-педагогічний процес: нові підходи до загальних проблем / Ольга Сухомлинська. – К. : А.П.Н., 2003. – 68 с.
Українська педагогіка в персоналіях : у 2 кн. Кн.1 : навч. посіб. / за ред. О. В. Сухомлинської. – К. : Либідь, 2005. – С. 3–11.
Фукс-Хайнритц В. Биографический метод / В. Фукс-Хайнритц // Биографический метод в социологии: история, методология, практика / ред. колл. : В. В. Се¬менова, Е. Ю. Мещеркина. – М., 1993. – С. 11–41.
Ярошевський М. Г. Биография ученого как науковедческая проблема / М. Г. Ярошевський // Человек науки. – М., 1974. – С. 19–57.
Denzin N. The Research Act. A Theoretical Introduction to Sociological Methods / N. Denzin. – New Jersey, 1989. – P. 7.
Lee S. The Perspective of Biography / S. Lee. – London : The English Association [pamphlet no. 41], 1918. – Р. 10.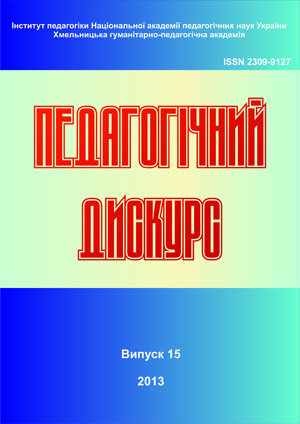 How to Cite
Belan, H. (2013). Biographical Method in the Historical and Pedagogical Science: the Leading Trends of Formation. Pedagogical Discourse, (15), 50-54. Retrieved from http://ojs.kgpa.km.ua/index.php/peddiscourse/article/view/590
Copyright (c) 2013 Pedagogical Discourse
This work is licensed under a Creative Commons Attribution-NonCommercial-ShareAlike 4.0 International License.