School Textbook as a Source of Study of Differentiation of Content of Social Science Subjects (40 – 50s of ХХ Century)
Nestor Gupan

Institute of Pedagogy of National Academy of Pedagogical Sciences of Ukraine
Keywords:
school textbook, appliance, textbook, the content of education, social science education, differentiation
Abstract
The article deals with the questions of study differentiation by means of school textbook in 40-50s of the XX century. Changes in the national textbooks making in the context of changes in the educational paradigm are explained. Directions of external differentiation by the age peculiarities of pupils and national needs of pupils in the USSR are examined.
Downloads
Download data is not yet available.
References
Виноградов С. М. Логика : [учебник для средней школы в обработке и под редакцией А. Кузьмина]. – М. : Учпедгиз, 1948. – 118 с.
Ефимов А. В. Новая история. Учебник для 8 класса средней школы. – М., 1940. – 310 с. ; Галкин И. С., Зубан Л. И., Котович Ф. И., Хвостов В. М. Новая история. 1870-1917. Учебник для 9 класса средней школы. – М., 1945. – 348 с.
Карева М. П. Конституция СССР : [пособие для средней школы] / М. П. Карева. – М. : Учпедгиз, 1947. – 256 с.
Короткий курс історії СРСР. Підручник для 3 і 4 класів / за ред. проф. А. В. Шестакова. – К., 1937. – 211 с.
О журналах «Звезда» и «Ленинград». Постановление ЦК ВКП (б) от 14 августа 1946 г. – М., 1958. – 25 c.
Теплов Б. М. Психологія : [підруч. для середньої школи] / Б. М. Теплов. – К. : Радянська школа, 1956. – 230 с.
Челпанов Г. І. Підручник логіки / Г. І. Челпанов. – К. : Укрполітвидав, 1947. – 158 с.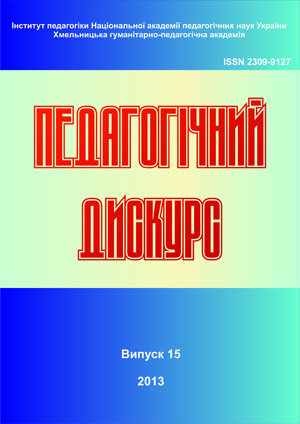 How to Cite
Gupan, N. (2013). School Textbook as a Source of Study of Differentiation of Content of Social Science Subjects (40 – 50s of ХХ Century). Pedagogical Discourse, (15), 185-190. Retrieved from http://ojs.kgpa.km.ua/index.php/peddiscourse/article/view/695
Copyright (c) 2013 Pedagogical Discourse
This work is licensed under a Creative Commons Attribution-NonCommercial-ShareAlike 4.0 International License.