The Place of Children's Self-government in the Educational System of Janusz Korczak
Alyona Didenko

Kherson State University
Keywords:
children's self-government, educational system, pedagogic guidance
Abstract
The article summarized and described teaching experience of J. Korczak in the formation and development of children's self-government. On the basis of study of works of the leading researchers of the creative work of the outstanding Polish teacher the conceptual principles, structure, content; stages of development of children's self-government, its social and formational humanistic character are defined. The levels and functions of J.Korczak's educational management by development of the children's self-government are distinguished. Analyzed the educational effectiveness of children's self-government at the custodial establishments of J.Korczak as a basis for the realization of democratic rights and freedoms of the child, the way of humanization of education, the method of formation of a civil responsibility, with the form of organization of the activity of the younger generation.
Downloads
Download data is not yet available.
References
Гайда Й. Проблеми гуманістичного виховання особистості в педагогічній спадщині Януша Корчака та Антона Макаренка : автореф. дис. на здобуття ступеня канд. пед. наук : спец. 13.00.01 / Йоанна Гайда. – К., 2004. – 23 с.
Денисюк С. Проблема формування особистості у педагогічній спадщині педагога-гуманіста Я. Корчака : автореф. дис. на здобуття ступеня канд. пед. наук : спец. 13.00.01 / С. Денисюк. – К., 2000. – 22 с.
Забута Т. Педагогічна творчість Януша Корчака / Забута Т., Ямницький М. – Рівне, 1997. – 175 с.
Забута Т. В. Дитяче самоврядування в педагогічній спадщині Януша Корчака / Т. В. Забута // Наука і освіта. – 1997. – № 1. – С. 10–13.
Зязюн І. А. Краса педагогічної дії / Зязюн І. А., Сагач Г. М. – К., 1997. – 302 с.
Корчак Я. Як любити дітей / Я. Корчак. – К. : Рад. школа, 1976. – 159 с.
Кушнір В. М. Провідні гуманістичні ідеї творчої спадщини Януша Корчака у контексті розвитку вітчизняної педагогічної думки : автореф. дис. на здобуття ступеня канд. пед. наук : спец. 13.00.01 / В. М. Кушнір. – К., 2004. – 22 с.
Lewin A. Gdy nadchodził kres… Ostatnie lata życia Janusza Korczaka / Lewin A. –W. : WSiP, 1996. – 182 s.
Merżan J. Aby nie uleglo zapomnieniu / Merżan J. – W. : NK, 1987. – 139 s.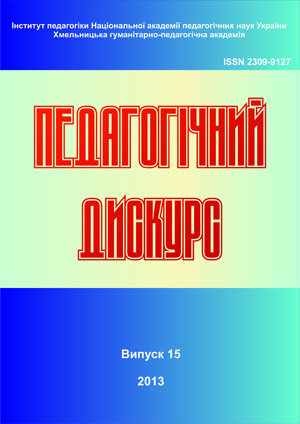 How to Cite
Didenko, A. (2013). The Place of Children's Self-government in the Educational System of Janusz Korczak. Pedagogical Discourse, (15), 199-202. Retrieved from http://ojs.kgpa.km.ua/index.php/peddiscourse/article/view/698
Copyright (c) 2013 Pedagogical Discourse
This work is licensed under a Creative Commons Attribution-NonCommercial-ShareAlike 4.0 International License.