Retrospective Analysis of Social and Educational Research of Informative Training of Future Translators
Yevhen Dolynskyi

Khmelnytskyi National University
Keywords:
educational research, training future translators, information technologies, informative competence
Abstract
The relevance of the article is characterized by the current needs of information society in the preparation of informative competent professionals, particularly in the field of translation. The article considers the scientific, social and educational views on the formation of informative competence of future interpreters in higher education. The problem of using of information technologies in teaching is analyzed. Various approaches and concepts of translation training are observed. The necessity of future translators using information and communication technologies in the system of professional education, formation of their informative competence are analyzed.
Downloads
Download data is not yet available.
References
Долинский Е. В. Формирование коммуникативной компетентности будущих переводчиков средствами дистанционного обучения : дис. ... канд. пед. наук : 13.00.04 / Долинский Евгений Владимирович. – Хмельницкий, 2012. – 252 с.
Мацюк О. О. Формування професійної компетентності майбутніх перекладачів засобами інформаційно-комунікаційних технологій : дис. ... канд. пед. наук : 13.00.04 / Мацюк Олена Олександрівна. – Хмельницький, 2012. – 243 с.
Петухова Л. Є. Теоретико-методичні засади формування інформатичних компетентностей майбутніх учителів початкових класів : дис. … д-ра пед. наук / Петухова Л. Є. – Херсон, 2009. – 564 с.
Сєргєєва О. В. Професійна підготовка перекладачів в університетах Великої Британії : дис. ... канд. пед. наук : 13.00.04 / О. В. Сєргєєва – Х., 2012. – 344 с.
Хуторской А. В. Ключевые компетенции как компонент личностно-ориентированной парадигмы образования / А. В. Хуторской // Народное образование. – 2003. – № 2. – С. 58–64.
Янковець А. В. Підготовка майбутніх перекладачів засобами інформаційно-комунікаційних технологій у вищих військових навчальних закладах : дис. … канд. пед. наук : 13.00.04 / Янковець Андрій Володимирович. – Хмельницький, 2005. – 190 с.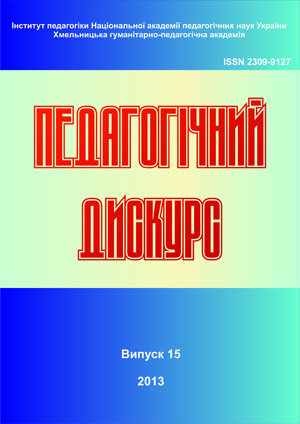 How to Cite
Dolynskyi, Y. (2013). Retrospective Analysis of Social and Educational Research of Informative Training of Future Translators. Pedagogical Discourse, (15), 223-228. Retrieved from http://ojs.kgpa.km.ua/index.php/peddiscourse/article/view/702
Copyright (c) 2013 Pedagogical Discourse
This work is licensed under a Creative Commons Attribution-NonCommercial-ShareAlike 4.0 International License.