The Historiography of the Educational Ideal Study in the Domestic Pedagogical Theory of the XIX – the Beginning of the XX Century
Lyudmyla Yershova

Zhytomyr Ivan Franko State University
Keywords:
educational ideal, the purpose of education, Christian, human, universal public, national ideals
Abstract
The historiographical analysis of the changesin historical and pedagogical paradigm of the educational ideal as a component of the domestic educationalsystem in the XIX – early XX century is suggested. Special aspects in imaging the problem of forming the educational ideal in epistolary sources in late XVIII century and their influence on pedagogical letter writing of underrussianUkrainian intellectual elite are characterized. The development of educational ideal idea in pedagogical heritage of Kyiv School of theology teachers is grounded. Specifics in learning the problem of forming the personality ideal in modern historical-pedagogical, philosophical, historical, literary, culturological and other researches are shown. The main problems in modern state of historiography in transformation of educational personality ideal problems on Ukrainian lands of Russian Empire are revealed.
Downloads
Download data is not yet available.
References
Ващенко Г. Виховний ідеал. Підручник для педагогів, виховників, молоді і батьків / Г. Ващенко. – Том І. – Полтава : Полтавський вісник, 1994. – 192с.
Дьоміна В. Історичний розвиток епістолярного жанру в художньо-педагогічній літературі / В. Дьоміна // Гуманізація навчально-виховного процесу. – Вип. L. – Слов'янськ, 2010. – С. 267–277.
Линицкий П. И. Образовательное значение философии / П. Линицкий // Труды Киевской духовной академии. – 1872. – № 11. – С. 1–14.
Линицкий П. И. Пособие к изучению вопросов философии (элементы философского миросозерцания) / П .Линицкий. – Х., 1892. – 427 с.
Линицкий П. И. Философские и социологические этюды / П. И. Линицкий. – К. : тип. И. И. Горбунова, 1907. – 242 с.
Маккавейский Н. Религия и народность как основы воспитания. Речь, произнесенная на торжественном акте Киевской духовной академии 26 сентября 1895 г. / Н. Маккавейский. – К. : тип. Г. Т. Корчак-Новицкого, 1895. – 45 с.
Маккавейский Н. К. Педагогика древних отцов и учителей Церкви: несколько мыслей о воспитании из древнеотеческих творений / Н. К. Маккавейский. – К. : тип. П.Барского, 1897. – 81 с.
Мартиненко Д. В. Епістолярії як джерело з історії педагогіки / Д.В. Мартиненко // Наукові записки Ніжинського державного університету імені Миколи Гоголя. Серія : психолого-педагогічні науки. – Ніжин, 2009. – Кн. 4. – С. 82–86.
Невмержицька О. В. Християнський виховний ідеал у спадщині Памфіла Юркевича / О. В. Невмержицька // Педагогічний дискурс. – 2012. – Вип.12. – С. 239–244.
Олесницкий М. Нравственное богословие / М. Олесницкий. – СПб., 1907. – 114 c.
Олесницкий М. А. Курс педагогики. Руководство для женских институтов и гимназий, для высших женских курсов и для всех, занимающихся воспитанием детей / М. А. Олесницкий. – К., 1885. – Вып.1. Теория воспитания. – ІІ, 335 с.
Олесницкий М. А. История нравственности и нравственных учений / М .А. Олесницкий. Ч. 1–2. – К. : тип. Г.Т. Корчак-Новицкого, 1882–1886. – 706 с.
Юркевич П. Вибрані твори: Ідея – Серце – Розум і досвід / П. Юркевич. – Вінніпег : Колегія св. Андрея в Вінніпезі, 1984. – 167 с.
Юркевич П. Д. Курс общей педагогики с приложениями / П. Д. Юркевич. – М. : тип. Грачева, 1869. – 404 с.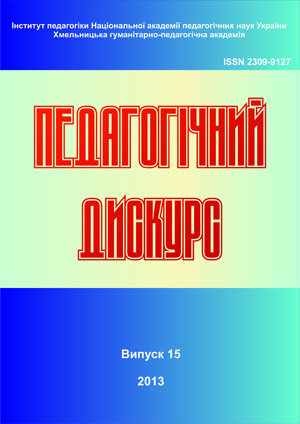 How to Cite
Yershova, L. (2013). The Historiography of the Educational Ideal Study in the Domestic Pedagogical Theory of the XIX – the Beginning of the XX Century. Pedagogical Discourse, (15), 233-237. Retrieved from http://ojs.kgpa.km.ua/index.php/peddiscourse/article/view/704
Copyright (c) 2013 Pedagogical Discourse
This work is licensed under a Creative Commons Attribution-NonCommercial-ShareAlike 4.0 International License.