Research Work in Secondary School аs an Object of Historical and Pedagogical Study
Valeriya Irza

SHEE Donbass State Pedagogical University
Keywords:
educational technology, experimental work, cognitive activity, educational research, research, activity
Abstract
The article analyzes existing psychological and pedagogical researches on the development issues of the research work in Ukrainian secondary school from the second half of the twentieth century. The article reveals the essence and studies the meaning of the «research work». Researches that deal with the content, forms and methods of experimental work are analyzed. The theoretical and practical features of using research work in the educational process in different ways are studied. Research work is treated as a method of personality development of the pupil, a factor of preparation for the professional self-determination, the method of stimulation of the cognitive activity of the pupil and the method for forming a culture of thinking of the pupils.
Downloads
Download data is not yet available.
References
Алфимов В. М. Развиваем умственные творческие способности старшеклассников / В. М. Алфимов // Одаренный ребенок. – 2003. – № 5. – С. 30–41.
Марченко О. Становлення інноваційної особистості педагога-дослідника в умовах шкільного наукового товариства / О. Марченко // Науковий вісник Чернівецького університету : зб. наук. праць. – Чернівці : Рута, 2006. – (Сер. : Педагогіка та психологія). – Вип. 295. – С. 102–107.
Леонтович А. В. Проектирование исследовательской деятельности учащихся : дис. … канд. психол. наук : 19.00.13 / А. В. Леонтович. – М., 2003. – 210 с.
Кравцова И. А. Дидактические условия формирования у учащихся интереса к учебно-исследовательской работе : дис. … канд. пед. наук : 13.00.01 / И. А. Кравцова. – Кривой Рог, 1997. – 180 с.
Кравчук О. П. Дидактичні засади практично-дослідної діяльності учнів основної школи у процесі вивчення природничих предметів : дис. … канд. пед. наук : 13.00.09 / О. П. Кравчук. – К., 2011. – 319 с.
Щукин С. В. Опытническая работа учащихся общеобразовательной школы / С. В. Щукин. – М. : Изд-во АПН РСФСР, 1960. – 304 c.
Ахматов А. Ф. Педагогические основы сельскохозяйственного опытничества учащихся / А. Ф. Ахматов, А. Д. Саблин. – Горький : Волго-Вят. кн. изд., 1968. – 191 с.
Джевага Г. В. Розвиток творчих здібностей учнів основної школи у процесі сільськогосподарського дослідництва : автореф. дис. на здобуття наук. ступеня канд. пед. наук : спец. 13.00.02 «Теорія та методика навчання технологій» / Г. В. Джевага. – Чернігів, 2011. – 20 с.
Кононенко О. С. Формирование опыта исследовательской деятельности старшеклассников в научных обществах учащихся по экологии : дис. … канд. пед. наук : 13.00.01 / О. С. Кононенко. – Кемерово, 2005. – 197 с.
Тихенко Л. В. Формування творчих здібностей старшокласників у процесі дослідницької діяльності в Малій академії наук України : дис. … канд. пед. наук : 13.00.07 / Л. В. Тихенко. – К., 2008. –199 с.
Павленко О. П. Формування творчої особистості гімназиста у пошуково-дослідницькій діяльності : дис. … канд. пед. наук : 13.00.09 / О. П. Павленко. – Луцьк, 2005. – 235 с.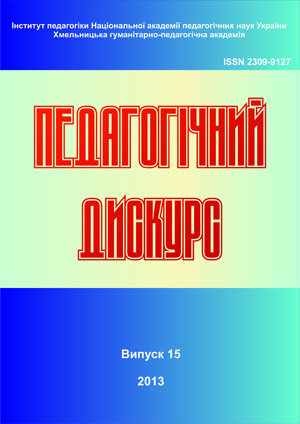 How to Cite
Irza, V. (2013). Research Work in Secondary School аs an Object of Historical and Pedagogical Study. Pedagogical Discourse, (15), 289-294. Retrieved from http://ojs.kgpa.km.ua/index.php/peddiscourse/article/view/715
Copyright (c) 2013 Pedagogical Discourse
This work is licensed under a Creative Commons Attribution-NonCommercial-ShareAlike 4.0 International License.