Documentary Sources of School Historical Education in Subcarpathian Rus
Artur Kovach

SHEE «Uzhgorod National University»
Keywords:
documentary sources, historical education, procedural guidelines, pedagogical printed press
Abstract
The article is dedicated to documentary sources of school historical education issued in the period from 1919 till 1938 on the territory of Subcarpathian Rus. Author analyses legal acts, documents of clerical work, statistics, reference materials, procedural guideline materials, pedagogical printed press, journalism and personal documents, which show condition of historical education at schools. Review the source base is made in the light of French and Russian scientific traditions that distinguish the two categories of documents: «source» and «literature». Therefore, from documentary sources we isolated only original materials related to the period of the 1920s and 1930s., or created by contemporaries of that period.
Downloads
Download data is not yet available.
References
Гаджега В. Моя стежка у світ через Берегівську гімназію / Варфоломей Гаджега // Берегівська українська гімназія / ред.-упор. В. Худанич. – Ужгород : Гражда, 1997. – С. 43–57.
Гайный М. Одмадярщитися! / М. Гайный. – Учитель. – 1920. – Ч. 4. – С. 1–3.
Мадяре // Віночокъ. – 1920. – Ч. 11–12. – С. 87–88.
Маркусь В. Рік відновленої української гімназії в Берегові – 1944-45 (Спогади і спостереження про події, людей, обставини) / Василь Маркусь // Берегівська українська гімназія / ред.-упор. В. Худанич. – Ужгород : Гражда, 1997. – С. 75–96.
Почекутова О. Преса Закарпаття ХІХ – І половини ХХ століття. Бібліографічний покажчик / Олена Почекутова. – Ужгород : Говерла, 2010. – 128 с.
Худанич В. Берегівська українська гімназія / Василь Худанич // Берегівська українська гімназія / ред.-упор. В. Худанич. – Ужгород : Гражда, 1997. – С. 22–42.
Черябинський. Герої нашого часу // Учительський голос. – 1938. – Ч.2. – С.65-66.
Štraus J. Bibliografie českých a slovenských pedagogických časopisů do roku 1950 / Jiří Štraus. – Praha, 1968. – 548 s.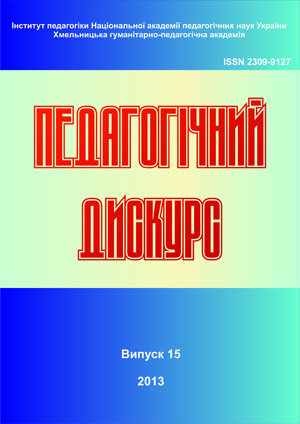 How to Cite
Kovach, A. (2013). Documentary Sources of School Historical Education in Subcarpathian Rus. Pedagogical Discourse, (15), 333-338. Retrieved from http://ojs.kgpa.km.ua/index.php/peddiscourse/article/view/725
Copyright (c) 2013 Pedagogical Discourse
This work is licensed under a Creative Commons Attribution-NonCommercial-ShareAlike 4.0 International License.