Future Engineer-Teachers' Training for Using Information-Communicational Technologies
Roman Horbatiuk

Volodymyr Hnatyuk Ternopil National Pedagogical University
Keywords:
information-communicational technologies, engineer-teacher, informatization, education, studying, model, didactic conditions
Abstract
Future engineer-teachers' training for  using information-communicational technologies is groundeded in the article. The model for correction the general and vocational-oriented subjects' study programs is worked out for different forms of study activities taking into account their professional aspect. The didactic conditions of students' preparation are determined.
Downloads
Download data is not yet available.
References
Алексєєнко Т. Ф. Біла книга національної освіти України / [Т. Ф. Алексєєнко, В. М. Аніщенко, Г. О. Балл, І. Д. Бех та ін.] ; за заг. ред. акад. В. Г. Кременя. – К. : Інформаційні системи, 2010. – 342 с.
Національна доктрина розвитку освіти // Освіта України. – 2002. – № 33 (329). – 24 с.
Закон України "Про освіту" № 1060-XII, із змінами від 19 грудня 2006 р. : за станом на 1 берез. 2008 р. [Електронний ресурс] / Верховна рада України // Освітній портал. – Режим доступу до порталу : http://www.osvita.org.ua/pravo/law_00/.
Гончаренко С. Український педагогічний словник / Семен Гончаренко. – К. : Либідь, 1997. – 376 с.
Горбатюк Р. М. Формування готовності майбутніх інженерів-педагогів до використання інформаційних технологій у професійній діяльності / Р. М. Горбатюк // Сучасні інформаційні технології та інноваційні методики навчання у підготовці фахівців : методологія, теорія, досвід, проблеми : зб. наук. праць Вінницького держ. пед. ун-ту ім. М. Коцюбинського ; за ред. І. А. Зязюна. – Київ ; Вінниця, 2008. – Вип. 18. – С. 315–321.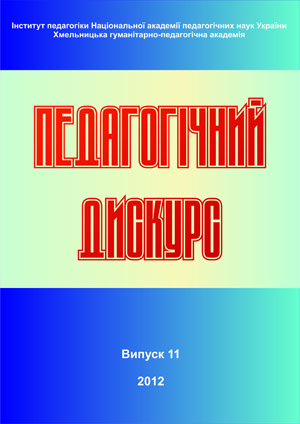 How to Cite
Horbatiuk, R. (2012). Future Engineer-Teachers' Training for Using Information-Communicational Technologies. Pedagogical Discourse, (11), 43-49. Retrieved from http://ojs.kgpa.km.ua/index.php/peddiscourse/article/view/762
Copyright (c) 2012 Pedagogical Discourse
This work is licensed under a Creative Commons Attribution-NonCommercial-ShareAlike 4.0 International License.