Choral Editing of M.Leontovych as a Means of Creative Activity of Pupils in Formation of the Future Specialist (Course "Choral Arrangement")
Stepan Zaverukha

Khmelnytskyi Humanitarian-Pedagogical Academy
Keywords:
arrangement, abilities, music-creative activity, pedagogics, creative activity
Abstract
Certain processes of formation of creative activity of students by means of choral editing of M.Leontovych during the course "Choral Arrangement" have been revealed in the article. Ways and methods of stimulating music-creative activity directed to the future specialist formation have been studied
Downloads
Download data is not yet available.
References
Асафьев Б. В. О музыкальных творческих навыках у детей / Б. В. Асафьев. – М. ; Л. : Музыка, 1965. – С. 98.

Бондаренко Т. Розвиток творчих навичок на уроках гармонії / Т. Бондаренко. – К. : Музична Україна, 1983. – (Методика викладання музично-теоретичних і музично-історичних дисциплін).

Сагайдашкіна О. П. Підвищення творчої самосвідомості особистості / О. П. Сагайдашкіна.

Національна доктрина розвитку освіти // Освіта України. – 2002. – 23 квіт. – С. 4–5.

Сумарокова В. Г. Організація творчої діяльності студентів консерваторій / В. Г. Сумарокова // Ураїнське музикознавство. – № 25.

Шубинский В. С. Педагогика творчества учахщихся / В. С. Шубинский. – М., 1988. – 80 с.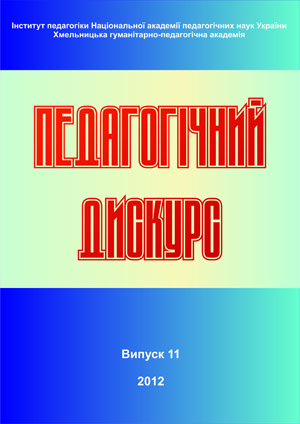 How to Cite
Zaverukha, S. (2012). Choral Editing of M.Leontovych as a Means of Creative Activity of Pupils in Formation of the Future Specialist (Course "Choral Arrangement"). Pedagogical Discourse, (11), 94-97. Retrieved from http://ojs.kgpa.km.ua/index.php/peddiscourse/article/view/781
Copyright (c) 2012 Pedagogical Discourse
This work is licensed under a Creative Commons Attribution-NonCommercial-ShareAlike 4.0 International License.