Ukrainian Language in Ukrainian Schools of Trans-Dnieper Ukraine during the Central Rada: Dreams or Reality
Alina Kachur

Kamianets-Podilskyi National University named after Ivan Ogienko
Keywords:
derussification, national education, set up of Ukrainian schooling
Abstract
Through epoch of national revival this article shows us brightly educational politics of Central rada, the fight of social-pedagogical workers who wanted to set Ukrainian language as learning subject and as basic language of school management.
Downloads
Download data is not yet available.
References
Боровик А. М. Українізація загальноосвітніх шкіл за часів виборювання державності (1917 – 1920 рр.) / Анатолій Миколайович Боровик. – Чернігів : Чернігівські обереги, 2008. – 368 с.

Завальнюк О. М. Будівництво української загальноосвітньої школи в роки національно-демократичної революції (1917-1920) / Олександр Михайлович Завальнюк, Юрій Васильович Телячий. – Кам'янець-Подільський : Абетка-Нова, 2001. – 212 с.

Маловідомі першоджерела української педагогіки: друга половина ХІХ-ХХ ст. : хрестоматія / упоряд. Л. Д. Березівська [та ін.]. – К. : Науковий світ, 2003. – 418 с.

Нариси історії українського шкільництва: 1905-1933 : навч. посіб. / за ред. О. В. Сухомлинської. – К. : Заповіт, 1996. – 304 с.

Постернак С. З історії освітнього руху на Україні за часи революції 1917-1919 / Степан Постернак. – К., 1920. – С. 11–13.

Передерій І. Г. Відродження та становлення українського національного загальноосвітнього шкільництва за доби Центральної Ради / І. Г. Передерій // Соціально-політичні та правові проблеми формування особистості і держави : зб. наук. праць. – С. 127.

Сірополко С. Історія освіти в Україні / Степан Сірополко. – К. : Наукова думка, 2001. – 912 с.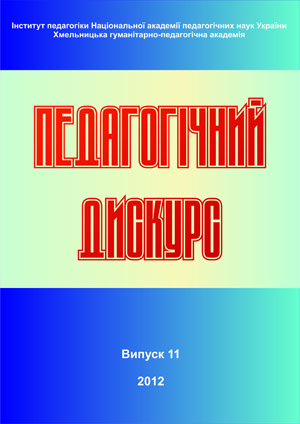 How to Cite
Kachur, A. (2012). Ukrainian Language in Ukrainian Schools of Trans-Dnieper Ukraine during the Central Rada: Dreams or Reality. Pedagogical Discourse, (11), 113-116. Retrieved from http://ojs.kgpa.km.ua/index.php/peddiscourse/article/view/790
Copyright (c) 2012 Педагогічний дискурс
This work is licensed under a Creative Commons Attribution-NonCommercial-ShareAlike 4.0 International License.