The Pedagogical Conditions of Usage of Achievements of Ecological Education of Last Years of the XX Century under Modern Conditions
Nadiya Kravets'

Carpathian National University named after V. Stefanyk
Keywords:
pedagogical conditions, ecological education, preschool education, ecological direction
Abstract
The pedagogues' achievements in ecological education of children of 6-7 years of age under  modern conditions of last years of the XX century are analyzed in the article.
Downloads
Download data is not yet available.
References
Базова програма розвитку дитини дошкільного віку "Я у Світі" / М-во освіти і науки України ; наук. ред. та упоряд. О. Л. Кононко. – К. : Світич, 2008. – 430 с.

Бех І. Д. Виховання особистості : у 2 кн. / І. Д. Бех. – Кн. 2 : Особистісно орієнтований підхід: науково-практичні засади. – К. : Либідь, 2003. – 344 с.

Доман Г. Гармоничиское розвитие ребeнка (Как розвить умственные и физичиские способности ребенка) / Г. Доман ; пер. с англ. – М., 1996. – 56 с.

Лисенко Н. В. Дошкільник і екологія / Н. В. Лисенко. – К. : РУМК, 1991. – 122 с.

Декроли О. Школа и воспитание / О. Декроли // Новые пути зарубежной дошкольной педагогики / под. ред. С. В. Иванова, Н. Н. Йорданского. – М., 1927. – С. 112–131.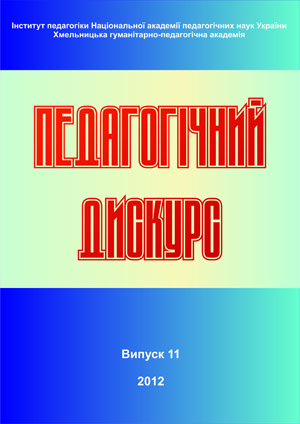 How to Cite
Kravets', N. (2012). The Pedagogical Conditions of Usage of Achievements of Ecological Education of Last Years of the XX Century under Modern Conditions. Pedagogical Discourse, (11), 145-149. Retrieved from http://ojs.kgpa.km.ua/index.php/peddiscourse/article/view/791
Copyright (c) 2012 Педагогічний дискурс
This work is licensed under a Creative Commons Attribution-NonCommercial-ShareAlike 4.0 International License.