Usage of Informational Technology in Students' Self-Study Organization in the Process of Foreign Language Study
Halyna Lysak

Khmelnytsky National University
Keywords:
self-study, informational technology
Abstract
The article focuses on the matter and problems of the students' self-study organization by means of the educational information technologies within the modern society conditions. It's investigated the conditions and methods of successful organization of students' self-study as unity of educational surrounding
Downloads
Download data is not yet available.
References
Бовтенко М. А. Информационно-коммуникационные технологии в преподавании иностранного языка: создание электронных учебных материалов : учебное пособие / М. А. Бовтенко. – Новосибирск : Изд-во НГТУ, 2008. – 112 c.

Гуревич Р. С. Інформаційно-комунікаційні технології як чинник використання інтерактивних технологій навчання в освітньому середовищі / Р. С. Гуревич, М. Ю. Кадемія // Проблеми освіти у Польщі та в Україні в контексті процесів глобалізації та євроінтеграції : зб. матер. міжн. наук.-практ. конф. – 22-24 квітня, 2009 р. Київ-Житомир / за ред. В. Кременя, Т. Левовицького, С. Сисоєвої. – К. : КІМ, 2009. – С. 217–225.

Дичківська І. М. Інноваційні педагогічні технології / І. М. Дичківська. – К. : Академвидав, 2004. – 351 с.

Журавська Л. М. Концептуальні умови управління самостійною роботою студентів у ВНЗ / Журавська Л. М. // Освіта та управління. – Т. 3. – 1999. – № 2.

Каменская Н. Е. Самостоятельная работа студентов при изучении курса отечественной истории : учебно-метод. пособ. / Н. Е. Каменская : [под ред. О. В. Кузьминой]. – СПб : СПбГУИТМО, 2009. – 52 с.

Козаков В.А. Самостоятельная работа студентов и ее информационно-методическое обеспечение : учебн. пособ. / Козаков В. А. – К. : Вища школа, 1990.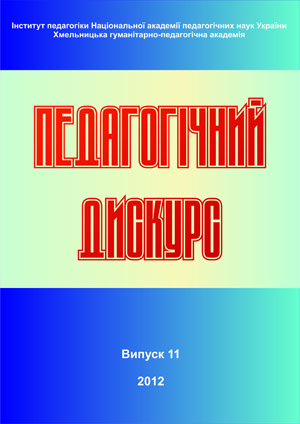 How to Cite
Lysak, H. (2012). Usage of Informational Technology in Students' Self-Study Organization in the Process of Foreign Language Study. Pedagogical Discourse, (11), 175-178. Retrieved from http://ojs.kgpa.km.ua/index.php/peddiscourse/article/view/808
Copyright (c) 2012 Pedagogical Discourse
This work is licensed under a Creative Commons Attribution-NonCommercial-ShareAlike 4.0 International License.