Forming of Professional Competences by Means of Developing Abilities and Skills as a Pedagogical Problem
Iryna Kustovskaya

Khmelnitsky National University
Keywords:
abilities and skills, professional competences, creative search, new information technologies
Abstract
The article deals with the analysis of interrelations between professional competences and professional skills which are the main in forming future economists. The author classifies professional competences according to the level of their influence on the process of development of future specialist and defines the main pedagogical approaches to the forming of abilities and skills.
Downloads
Download data is not yet available.
References
Освітньо-професійна програма підготовки бакалавра за спеціальностями напряму 0501 – "Економіка і підприємництво" [офіційне видання] / А. Ф. Павленко та ін. – К. : Аспект-Поліграф, 2006. – 126 с.

Коменский Я. А. Избранные педагогические сочинения : в 2-х т. / Я. А. Коменский.– М. : Педагогіка, 1982. – Т. 1. – 656 с.

Алексюк А. М. Педагогіка : навч. посіб. / А. М. Алексюк. – К. : Вид-во при Київському державному університеті видавничого об'єднання "Вища школа", 1985. – 295 с.

Платонов К. К. Проблемы способностей / К. К. Платонов. – М. : Наука, 1972. – 312 с.

Милерян Е. А. Психология формирования общетрудовых политехнических умений / Е. А. Милерян. – М. : Педагогика, 1973. – 297 с.

Калінін В. О. Формування професійної компетентності майбутнього вчителя іноземної мови засобами діалогу культур : дис…. канд. пед. наук. : 13.00.04 / В. О. Калінін. – Житомир, 2005. – 311 с.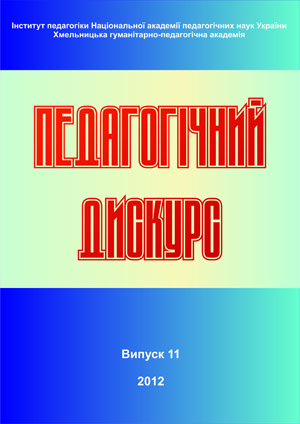 How to Cite
Kustovskaya, I. (2012). Forming of Professional Competences by Means of Developing Abilities and Skills as a Pedagogical Problem. Pedagogical Discourse, (11), 163-167. Retrieved from http://ojs.kgpa.km.ua/index.php/peddiscourse/article/view/810
Copyright (c) 2012 Pedagogical Discourse
This work is licensed under a Creative Commons Attribution-NonCommercial-ShareAlike 4.0 International License.