Innovative Leadership within the Context of Foreign Models of Managament
Olena Lystopad

Sumy State Makarenko Pedagogical University
Keywords:
innovative development, leadership, management, administration, leadership models, innovative leadership, innovative thinking, innovative activity
Abstract
The role of guidance and management in securing innovative activity of an organization is concretized in the article, foreign models of management are systematized and characterized, key indicators of innovative leadership are determined, possibilities of effective usage of regulations of foreign theory of management in innovative activity of home educational institutions are offered.
Downloads
Download data is not yet available.
References
Allix N. M. (2000), Transformational Leadership: Democratic or Despotic? / N. M. Allix // Educational Management and Administration, 28 (1), 7–20 [Електронний ресурс]. – Режим доступу : http://ema.sagepub.com/current.dtl

Bolman, L.G. and Deal, T.E. (1997), Reframing Organizations: Artistry, Choice and Leadership. – San Francisco, CA. [Електронний ресурс]. – Режим доступу : bookfi.org›book/1024942.

Bush T. Crisis or Crossroads? The Discipline of Educational Management in the Late 1990s / T. Bush // Educational Management and Administration. – 1999. – № 27 (3). – P. 239–252.

Fidler B. School leadership: some key ideas / B. Fidler // School Leadership and Management. – 1997. – № 17 (1). – P. 23–37.

Gunter H. (2001), Leaders and Leadership in Education / H. Gunter. – London, Paul Chapman [Електронний ресурс]. – Режим доступу: books.google.com.ua/books?isbn=0826464556...

Horth D. Innovation Leadership / Horth D., Buchner D. [Електронний ресурс]. – Режим доступу: www.ccl.org/leadership/.../InnovationLeadership.pdf.

Leithwood K. (1992), The move towards transformational leadership / K. Leithwood // Educational Leadership,49(5), 8–9 [Електронний ресурс]. – Режим доступу: www.ascd.org/.../el_199202_leithwood.pdf.

Leithwood K. School leadership in the context of accountability policies / K. Leithwood // International Journal of Leadership in Education. – 2001. – № 4(3). – P. 217–35.

Riley R/ Profiles in Leadership. Innovative Approaches to Transforming the American High School / [Riley R., Gates M.F., Gregorian V., Kop W., Smith A., Tirozzi G.] [Електронний ресурс]. – Режим доступу : www.all4ed.org.

School Leadership: Concepts and Evidence 2003 [Електронний ресурс]. – Режим доступу : dera.ioe.ac.uk/.../dok217-eng-School_Leadership.pdf.

Southworth G. (2002), Instructional leadership in schools: reflections and empirical evidence / G. Southworth // School Leadership and Management, 22 (1), 73–92 [Електронний ресурс]. – Режим доступу : citeseerx.ist.psu.edu/.../download?doi...

West-Burnham J. Leadership for learning: reengineering 'mind sets' / J. West-Burnham // School Leadership and Management. – 1997. – № 17(2). – P. 231–243.

Yukl G. A. (2002) Leadership in Organizations, Fifth Edition / G. A. Yukl. – Upper Saddle River, NJ [Електронний ресурс]. – Режим доступу: www.oppapers.com/.../yukl-page1.html.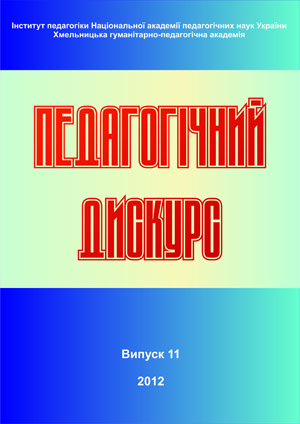 How to Cite
Lystopad, O. (2012). Innovative Leadership within the Context of Foreign Models of Managament. Pedagogical Discourse, (11), 179-183. Retrieved from http://ojs.kgpa.km.ua/index.php/peddiscourse/article/view/821
Copyright (c) 2012 Pedagogical Discourse
This work is licensed under a Creative Commons Attribution-NonCommercial-ShareAlike 4.0 International License.