Investigation Stage of Social Education of Children and Young People with Disabilities in Poland and Ukraine
Majya Perfileva

Pavlo Tychyna Uman State Pedagogical University
Keywords:
social education, disabled children and youth
Abstract
This article deals with the problem of historiographic analysis and generalization of Ukrainian and Polish researchers works concerning the study in the following areas: comparative studies; theoretical and methodological aspects of social education and socialization of individuals, special and Integrative learning; difficulties in cooperation with disabled children families; vocational rehabilitation and social protection. Despite the urgency of the problem in Polish society and many scientific investigations, the issue of social education of children and youth with disabilities still requires profound theoretical study of pedagogical principles of this process.
Downloads
Download data is not yet available.
References
Бондар В. І. [Електронний ресурс]. – Режим доступу : http://www.nbuv. gov.ua/portal/soc_gum/Spptp/bondar.html.
Заболотна О. Альтернативна освіта як предмет наукового дискурсу у вітчизняному та зарубіжному педагогічному просторі / Оксана Заболотна // Порівняльно-педагогічні студії. – 2011. – № 1. – С. 31–37.
Сбруєва А. Порівняльна педагогіка : навчальний посібник / А. Сбруєва. – [2-ге вид.]. – Суми : ВТД «Університетська книга», 2004. – 320 с.
Dryżałowska G. Integracja edukacyina a integracja społeczna / G. Dryżałowska // Integracja społeczna osób niepełnosprawnych / pod red. Grażyny Dryżałowskiej, Hanny Zuraw. – Warszawa : wyd. «Zak», 2004. – S. 215–225.
Gorajewska D. Fakty i mify o osobach z niepełnosprawnościa / D. Gorajewska. – Warszawa : wydawca: integracja, 2006. – 123 s.
Kawzyńska-Byurym Z. Niepełnosprawność – specyfika pomocy społezcnej / Z. Kawzyńska-Byurym. – Warszawa, 1996. – 169 s.
Żuraw H. Udział osób niepełnosprawnych w życiu społecznym / H. Żuraw. – Warzhawa : wydawnictwo Akademickie Żak, 2008. – 398 s.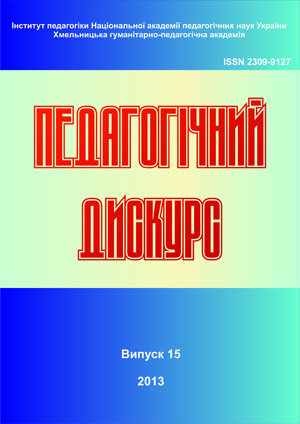 How to Cite
Perfileva, M. (2013). Investigation Stage of Social Education of Children and Young People with Disabilities in Poland and Ukraine. Pedagogical Discourse, (15), 542-545. Retrieved from http://ojs.kgpa.km.ua/index.php/peddiscourse/article/view/851
Copyright (c) 2013 Pedagogical Discourse
This work is licensed under a Creative Commons Attribution-NonCommercial-ShareAlike 4.0 International License.