Professional Preparation of a Teacher at Teachers Seminaries of Ukraine (End of XIX – Beginning of the XX Century)
Oleksandr Osavoliuk

Mykola Gogol Nizhyn State University
Keywords:
teachers seminaries, pedagogical skills, pedagogical education, pedagogical educational institutions
Abstract
On the basis of the analysis of archival sources the author of the article characterizes the approaches to preparation of teachers at the pedagogical seminaries of the end of the XIX – beginning of the XX century, considers the essence and specific of psychological, pedagogical and practical preparation of future teacher of secondary school in the studied period.
Downloads
Download data is not yet available.
References
Журналы заседания съезда директоров и инспекторов народных училищ Оренбургского учебного округа в г. Уфе 11-16 июня 1912 года. – Уфа, 1913. – 437 с.
Зенченко С. О. О подготовке преподавателей средних учебных заведений к педагогической деятельности / С. О. Зенченко. – М., 1898. – 34 с.
Князьков С. А. Очерк истории народного образования в России до эпохи реформ Александра ІІ / С. А. Князьков, Н. И. Сербов. – М., 1910. – 240 с.
Кузьмин И. И. Учительские семинарии в России и их место в подготовке учителей начальной школы [Лекции по истории педагогики] / И. И. Кузьмин. – Курган, 1970. – 102 с.
Ушинский К. Проект учительских семинарий / К. Ушинский // Журнал Министерства Народного Просвещения. – С-Пб : Изд-во "Типография Иосафата Огризко", 1861. – № 9. – С. 200–202.
Центральний державний історичний архів України в місті Києві (ЦДІА)
Ф. 707, оп. 207, сп. 57. Записки к "Библиотеке Югозападного края". Дело о выписке книг и учительских пособий для учительских семинарий за 1884 год. – арк. 14 об.
Ф.707, оп. 229, сп. 4. Сведения для желающих поступить в число воспитанников Коростышевской учительской семинарии. Дело с перепиской по Коростышевской учительской семинарии за 1908 год. – арк. 73об.
Ф.707, оп. 225, сп. 86. Переписка председателя управы с Попечителем Киевского Учебного округа. Дело о передаче Черниговской земской учительской семинарии в ведение Министерства народного просвещения за 1875 год. – арк. 22– 22 об.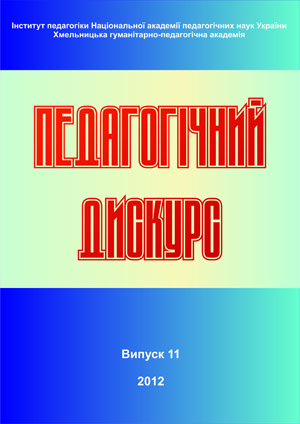 How to Cite
Osavoliuk, O. (2011). Professional Preparation of a Teacher at Teachers Seminaries of Ukraine (End of XIX – Beginning of the XX Century). Pedagogical Discourse, (11), 210-213. Retrieved from http://ojs.kgpa.km.ua/index.php/peddiscourse/article/view/872
Copyright (c) 2012 Pedagogical Discourse
This work is licensed under a Creative Commons Attribution-NonCommercial-ShareAlike 4.0 International License.