Management of Finance, Bookkeeping and Economic Development of Pre-School Education as One of the Functional Directions of Managerial Activity
Leonida Pisots'ka

Khmelnytskyi Humanitarian-Pedagogical Academy
Keywords:
management, management of education, management of pre-school educational institution, budget, finance, bookkeeping, educational network pricing, taxation, educational network, pricing
Abstract
Main tasks of functional direction in finance management, bookkeeping, and economic development of pre-school education in the context of management of regional authority of management of education, and management of pre-school educational establishment have been summarized in the article. These tasks have been formed on the basis of implementation of legislative-normative educational basis.
Downloads
Download data is not yet available.
References
Закон України "Про дошкільну освіту", Закон України "Про охорону дитинства". – К. : Редакція ж-лу "Дошкільне виховання". – 2001. – 55 с.
Дарманський М. М. Соціально-педагогічні основи управління освітою в регіоні / М. М. Дарманський. – Хмельницький : Поділля, 1997. – 384 с
.
Методичні вказівки по складанню кошторисів витрат на утримання дитячих дошкільних закладів // Довідник дошкільного працівника : [упор. Л. Ф. Венжик, Е. А. Таранова]. – Радянська школа. – 1980. – С. 251–286.
Морева О. Кошторис у закладах освіти / О. Морева // Баланс, бюджет. – 2003. – № 2–1 (23). – лютий. – С. 9–11.
Пісоцька Л. С. Актуальні проблеми управління розвитком дошкільної освіти в Україні : [моногр.] / Л. С. Пісоцька. – Хмельницький : ХГПА, 2009. – 174 с.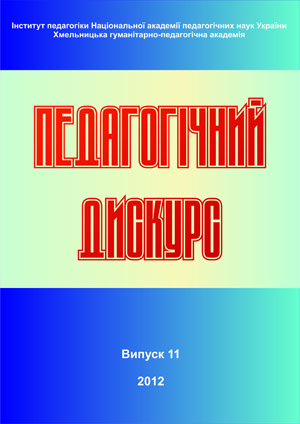 How to Cite
Pisots'ka, L. (2012). Management of Finance, Bookkeeping and Economic Development of Pre-School Education as One of the Functional Directions of Managerial Activity. Pedagogical Discourse, (11), 231-234. Retrieved from http://ojs.kgpa.km.ua/index.php/peddiscourse/article/view/877
Copyright (c) 2012 Pedagogical discourse
This work is licensed under a Creative Commons Attribution-NonCommercial-ShareAlike 4.0 International License.