Reflection of the Content of Sensitive Education of Junior Pupils in the Curriculum for Primary Classes of Gymnasiums for Men in Ukraine in the Early Twentieth Century
Viktoria Chorna

Berdyansk State Pedagogical University
Keywords:
sensitive education, primary school pupils, program material, gymnasium for men
Abstract
The results of analyses of the curriculum for preparatory and primary classes of gymnasiums for men in Ukraine, according to different educational subjects with the aim to determine their resources for perceptive development of the pupils are shown.
Downloads
Download data is not yet available.
References
Артемова Л. В. Історія педагогіки України : підруч. / Людмила Володимирівна Артемова. – К. : Либідь, 2006. – 424 с.
Джуринский А. Н. История педагогики : учеб. [для студ. педвузов] / Александр Наумович Джуринский. – М. : ВЛАДОС, 2000. – 432 с.
Елисеев В. Программы и правила всех классов мужских гимназий. Неофициальное издание / В. Елисеев. – Одесса : Распопов, 1909. – 192 с.
Історія української школи і педагогіки : хрестоматія / [уклад. О. О. Любар] ; за ред. В. Г. Кременя. – К. : Знання, 2005. – 767 с.
Медвідь Л. А. Історія національної освіти і педагогічної думки в Україні : навч. посіб. / Людмила Андріївна Медвідь. – К. : Вікар, 2003. – 335 с. – (Вища освіта ХХІ століття).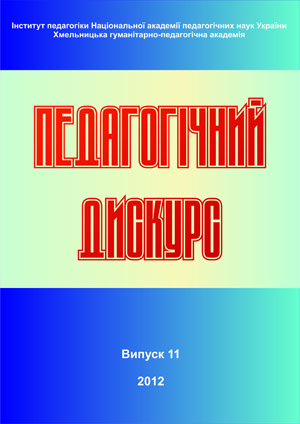 How to Cite
Chorna, V. (2011). Reflection of the Content of Sensitive Education of Junior Pupils in the Curriculum for Primary Classes of Gymnasiums for Men in Ukraine in the Early Twentieth Century. Pedagogical Discourse, (11), 334-337. Retrieved from http://ojs.kgpa.km.ua/index.php/peddiscourse/article/view/904
Copyright (c) 2012 Pedagogicaln Discourse
This work is licensed under a Creative Commons Attribution-NonCommercial-ShareAlike 4.0 International License.