History of Appearing and Creation of Ukrainian Folk Doll and its Educational Potential
Galyna Siginishyna

Khmelnytskyi Humanitarian-Pedagogical Academy

Galyna Abramovych

Khmelnytskyi Humanitarian-Pedagogical Academy
Keywords:
Ukrainian folk doll, reeled doll, doll-amulete, ritual doll, toy culture
Abstract
The article studies how Ukrainian folk doll in general and reeled doll in particular appeared and was created. Plastic, ornamental, figured signs of the dolls have been mentioned. The influence of the Ukrainian folk doll onto the development and education of children has been cleared up. The way of making of the tie-knot doll and the doll made of herbs has been shown.
Downloads
Download data is not yet available.
References
Богуш А. М. Українське народознавство в дошкільному закладі / Алла Михайлівна Богуш, Неллі Василівна Лисенко. – К. : Вища школа, 1994. – 398 с.
Етнопедагогічний та культурологічний потенціал народної іграшки: матеріали всеукр.наук.-метод.семін. (Хмельницький, 17 квіт. 2007 р.). – Хмельницький, 2007. – 166 с.
Найден О. С. Українська народна лялька / О. С. Найден. – К. : ВД «Стилос», 2007. – 240 с.
Напиткіна Г. П. Українська лялька-оберіг / Галина Напиткіна. – Тернопіль : Підручники і посібники, 2007. – 32 с.
Українське народознавство / С. П. Павлюк, Г. Й. Горинь, Р. Ф. Кирчіва. – Львів : Фенікс, 1994. – 608 с.
Українська народна іграшка. Альбом-каталог / автор-упоряд. : Є. Шевченко, В. Корнієнко. – К. : Народні джерела, 2011. – 96 с. : іл.
Фіголь Д. І. Українська народна іграшка / Д. І. Фіголь. – Львів, 1994. – 217 с.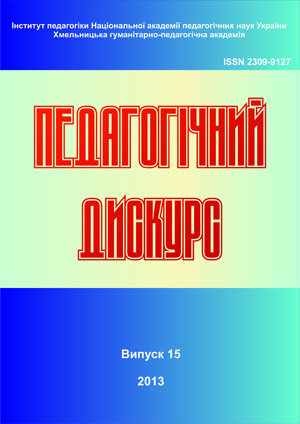 How to Cite
Siginishyna, G., & Abramovych, G. (2013). History of Appearing and Creation of Ukrainian Folk Doll and its Educational Potential. Pedagogical Discourse, (15), 645-649. Retrieved from http://ojs.kgpa.km.ua/index.php/peddiscourse/article/view/921
Copyright (c) 2013 Pedagogical Discourse
This work is licensed under a Creative Commons Attribution-NonCommercial-ShareAlike 4.0 International License.