Source Base of the Research of Organization of Pedagogical Process at the Evening General Educational School of Ukraine (1943-1991)
Valentyna Stoliar

Khmelnytskyi Humanitarian-Pedagogical Academy
Keywords:
source base, evening general educational school, organization of pedagogical process, Ukrainian SSR, state achieves, statistic data, pedagogical periodicals
Abstract
The source base of the research of the problem of organization of pedagogical process at the evening general educational school of Ukraine (1943-1991), which is represented by the documents and materials from the state achieves; materials of those days pedagogical periodicals has been determined in the article («Biology at School», «Evening Secondary School»,«Teaching of Pupil», «Geography at School», «Foreign Language at School», «Literature at School», «Mathematics at School», «People's Education», «Teaching of History at School», «Soviet Education», «Soviet School», «Russian Language at School», «Soviet Pedagogics», «Physics at School», «Physical Culture at School», «Chemistry at School» and others.). The documents of the funds (f.1, f.2, f.166, f.582, f.2605, f.5111) of the Central State archives of higher organs of power and management of Ukraine have been fully analyzed. The role of the sources, their informative means, that allow to clear out some problems of the research in the more flexible way, have been characterized.
Downloads
Download data is not yet available.
References
Вечерняя школа : справочник по вопросам очного и заочного обучения работающей молодежь и взрослых / [сост. : А. А. Жуковский, Р. М. Сулейманова, М. П. Трутнева]. – М. : Педагогика, 1973. – 592 с.
Народна освіта і педагогічна наука в Українській РСР (1917-1967) / [ред. А. Г. Бондар]. – Харків : Радянська школа, 1967. – 483 с.
Народна освіта, наука і культура в Українській РСР : статистичний збірник / [відп. за вип. Л. Я. Нікітіна]. – К. : Статистика, 1973. – 316 с.
Народное образование в СССР. Общеобразовательная школа : сборник документов 1917-1973гг. / [сост. : А. А. Абакумов, Н. П. Кузин, Ф. И. Пузырев, Л. Ф. Литвинов]. – М. : Педагогика, 1974. – 560 с.
Народное хазяйство Украинской ССР : статистической ежегодник / [ред. Г. Л. Миронова]. – К. : Техника, 1984. – 383 с.
Центральний державний архів вищих органів влади та управління України, м. Київ (ЦДАВО України), ф. 1, оп. 22, спр. 33, арк. 13–20.
ЦДАВО України, ф. 166, оп. 15, спр. 2708, арк. 45.
ЦДАВО України, ф. 166, оп. 15, спр. 7734, арк. 123.
ЦДАВО України, ф. 166, оп. 15, спр. 7830, арк. 48.
ЦДАВО України, ф. 2, оп. 7, спр. 5593, арк. 157–190.
ЦДАВО України, ф. 2, оп. 7, спр. 7257, арк. 141–148.
ЦДАВО України, ф. 2, оп. 9, спр. 9333, арк. 22-122.
ЦДАВО України, ф. 2605, оп. 8, спр. 397, арк. 81.
ЦДАВО України, ф. 5111, оп. 1, спр. 245, арк. 216–218.
ЦДАВО України, ф. 582, оп. 31, спр. 78, арк. 41.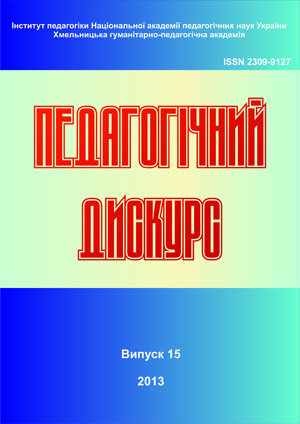 How to Cite
Stoliar, V. (2013). Source Base of the Research of Organization of Pedagogical Process at the Evening General Educational School of Ukraine (1943-1991). Pedagogical Discourse, (15), 683-687. Retrieved from http://ojs.kgpa.km.ua/index.php/peddiscourse/article/view/939
Copyright (c) 2013 Pedagogical Discourse
This work is licensed under a Creative Commons Attribution-NonCommercial-ShareAlike 4.0 International License.